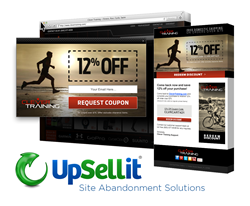 With the help of UpSellit, we have been able to deliver increased conversion rates and business intelligence across the board.
Westlake Village, CA (PRWEB) March 18, 2014
Today, UpSellit (http://www.UpSellit.com) announced the release of a new case study that outlines how three of MGECOM's advertisers increased conversions with intelligent site abandonment solutions. To meet the needs of The Splash Boutique, WorldWideGolfShop, Clever Training, and various other MGECOM advertisers, UpSellit dispatched highly personalized customer recovery solutions to achieve campaign conversion rates as high as 64.5%.
UpSellit, the industry-leading site abandonment solution, develops completely custom campaigns that increase profitability by recovering abandoned conversions. UpSellit's data-driven approach considers visitor details, session data and purchase behavior to deploy the right re-engagement strategy at the right time. This case study outlines UpSellit's ability to increase conversions for a wide range of online businesses.
"With the help of UpSellit, we have been able to deliver increased conversion rates and business intelligence across the board," commented Matt Enders, CEO at MGECOM, Inc. "As we continue to gather data and roll-out UpSellit's abandonment solutions with new advertisers, their consistent success and outstanding service never fails to impress."
MGECOM enhances online profitability for a long list of businesses with expert Affiliate Program Management. MGECOM's affiliate management team combines advertisers with publisher networks and optimization tools to maximize traffic and conversions. After proving the power of UpSellit's site abandonment solutions with a few of MGECOM's advertisers, MGECOM partnered with UpSellit to provide a seamless integration of custom revenue recovery solutions for all of its advertisers.
"MGECOM builds long standing relationships with their advertisers and we're very proud to be given the opportunity to contribute to their mutual success," said Jeremy Aaronson, Vice President of Sales with UpSellit. "Each of MGECOM's advertisers provided a unique challenge, and I'm extremely happy with the custom campaigns our Abandonment Experts have designed. It's great to see the power of our solutions reflected in a case study that demonstrates consistent performance across so many different sites."
Campaign performance metrics show the power of UpSellit's technologies:

TheSplashBoutique.com, the leading Lindsay Phillips reseller, converted 13.6% of first-time abandoning visitors with UpSellit's Abandonment Chat.
WorldWideGolfShop.com, the national online retailer for golfing goods and apparel, used ExitCapture, UpSellit's lead recovery solution, to convert 9.9% of abandoning visitors who provided an email address.
CleverTraining, an athletic training gear retailer, collected new leads from 9.0% of abandoning visitors, and went on to convert 27.3% of those leads with a targeted email remarketing campaign.
For an in-depth look at the strategies, technologies and performance metrics behind UpSellit's mutually beneficial partnership with MGECOM, download the complete case study here: http://www.upsellit.com/MGECOM-site-abandonment.jsp.
About UpSellit:
UpSellit provides ecommerce and lead generation businesses with 100% pay-for-performance site abandonment solutions. UpSellit increases conversions up to 25% with unique email, chat and promotional technologies that address specific concerns to recover abandoned consumers. Every campaign is a full-service solution with ongoing optimization and support at no additional charge. For more information on UpSellit's industry-leading customer recovery strategies, call 1 (866) 504-9619 or write us at info(at)upsellit(dot)com.