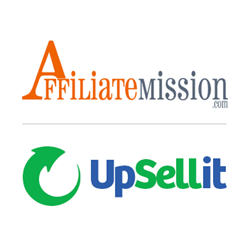 This new partnership gives our clients a new avenue to optimize site performance and further grow revenue.
Westlake Village, CA (PRWEB) July 08, 2015
UpSellit, Inc., the industry leader in site abandonment solutions, is proud to announce a new strategic partnership with premier affiliate marketing agency, Affiliate Mission.
Through this new partnership, Affiliate Mission provides their publishers with direct access to UpSellit's Suite of Abandonment Solutions, a collection of proven, proprietary technologies that increase revenue and profitability for online businesses. In exchange, UpSellit benefits from working with Affiliate Mission's expansive network of high-quality, industrious advertisers.
Site abandonment is a constant concern in the ecommerce industry. According to UpSellit's research, over 96% of all ecommerce sessions end in abandonment. UpSellit's unique brand of email remarketing and on-site engagement strategies address consumer concerns and help keep shoppers on the path to conversion. In an ongoing effort to provide their clients with the very best services, Affiliate Mission is excited to bring industry-leading product, checkout, and cart abandonment solutions to their advertisers.
"This new partnership gives our clients a new avenue to optimize site performance and further grow revenue" said Affiliate Mission founder, Priest Willis. "Not only does this mean better business for all parties involved, but it gives us a chance to further our own mission of helping those in need." Affiliate Mission donates a percentage of each quarter's earnings to a charity of each publisher's choice.
UpSellit's abandonment solutions are custom built to match each client's branding specifications and marketing goals. This new partnership will provide Affiliate Mission's publishers with quick access to UpSellit's solutions and the ability to go from design to launch in a matter of days.
"Affiliate Mission is always looking for new ways to add value and be of better service to their clients," said Max Loewenthal, Director of Business Development with UpSellit. "Their constant analysis and deep affiliate expertise makes Affiliate Mission a powerhouse asset for any advertiser."