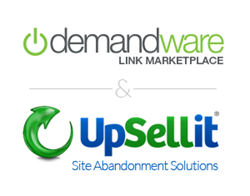 UpSellit has developed several unique capabilities that go beyond traditional remarketing and recover a larger segment of abandoning traffic.
Westlake Village, CA (PRWEB) September 30, 2013
UpSellit today announced that it has become a Demandware LINK Technology Partner, joining a best-of-breed community committed to accelerating the adoption of innovative ecommerce technologies. Through the LINK Technology Partner Program, UpSellit has developed a pre-built integration between the UpSellit Site Abandonment Suite and Demandware Commerce, making it possible for Demandware clients to easily implement abandonment solutions with advanced reporting capabilities.
"UpSellit has developed several unique capabilities that go beyond traditional remarketing and recover a larger segment of abandoning traffic. We're pleased to provide Demandware's clients with a seamless, certified integration to UpSellit's powerful solutions," commented Tom Griffin, SVP of Corporate Development for Demandware.
UpSellit provides online merchants the industry's leading suite of site abandonment solutions. Combining advanced analytics with in-house abandonment expertise, UpSellit recovers lost sales and can help generate revenue by developing custom engagements that reduce abandonment at every stage of the conversion funnel.
SmartAgent®, UpSellit's proprietary automated chat engine, assists customers at the moment of abandonment to provide the support they need to complete the sale. SmartAgent® understands everyday language and is custom programmed to provide answers to thousands of frequently asked questions. After three months of optimization, SmartAgent® typically responds with over 75% accuracy and recovers up to 20% of abandoned carts.
UpSellit's complete Email ReMarketing platform leverages two unique lead acquisition strategies to collect email addresses from abandoning visitors. Datahound® technology monitors specified form fields on a merchant's site, collecting customer contact information the instant it's typed. If the visitor abandons the page before submitting their information, Datahound® automatically passes the lead to UpSellit's Email ReMarketing engine for immediate customer recovery.
When visitors abandon before providing their contact information, UpSellit can also engage them at the moment of abandonment and incentivize the visitor to provide their email address. Once the lead is collected from the abandoning visitor, UpSellit automatically initiates a real-time email remarketing campaign by sending a series of highly personalized messages to recover the conversion. UpSellit's Email ReMarketing platform generates proven results, collecting 50-75% more leads than typical cart abandonment campaigns and converting 15-20% of collected leads.
"In becoming a certified Demandware LINK Technology Partner, UpSellit has joined a short list of best-in-class technology providers," said Tom Kogler, co-founder and CEO of UpSellit. "We're thrilled to provide our advanced suite of abandonment solutions through a completely hands-off installation process, making implementation easier for the client without compromising any of our solution's sophistication. Now that we're part of the LINK program, UpSellit can help Demandware's clients analyze and diagnose website abandonment and reduce the time to market for an effective customer recovery solution."
The Demandware LINK Technology Partner Program provides Demandware clients with a rich of set of pre-built integrations to cutting-edge commerce technologies and applications that can unlock revenue-generating opportunities and enhance the brand experience. By reducing the cost and complexity of integrations, Demandware LINK enables retailers to adopt innovative third party technologies quickly and cost-effectively, allowing them to accelerate time to market and realize a faster return on their investment.
About UpSellit
Headquartered in Southern California, UpSellit increases conversions for both ecommerce and lead generation businesses by recovering the visitors who abandon their website. With an advanced set of re-engagement technologies, UpSellit develops custom strategies that directly address the reasons for site abandonment. Every solution is custom-designed from the ground up to seamlessly integrate with the client's brand and desired user experience. UpSellit's team of abandonment experts continually monitor and optimize every campaign on a 100% pay-for-performance pricing model, ensuring a 5-25% lift in overall site conversions. For more information, please visit: http://www.UpSellit.com or call: +1 (866) 504-9619.