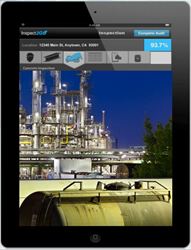 Offline Capability is Crucial for Remote, Photo Heavy Surveys
Orange County, CA (PRWEB) August 29, 2014
Inspect2GO (http://www.inspect2go.com) recently released new software for large scale remote surveys and audits. The software includes a 'native' inspection application that functions offline. No data is lost if a data connection is unavailable or a connection breaks. Hundreds of photos can be taken in a survey. The mobile applications are compatible with IOS (iPad), Android, and Microsoft Windows (Surface Pro) Mobile tablets and smartphones.
When a connection becomes available, the mobile application syncs with the SQL server and database via wifi or data connection. Both cloud and customer-server versions are available. Browser-based office software enables prioritizing, task management, scheduling, and generation of custom formatted photo reports.
Software Capabilities:

Structure – Structural survey, large infrastructure, and remote location inspection
Engineering – Engineering inspection
Photo – 500 picture photo reports
Reports – Custom report formatting
Custom – Custom inspection software
Audit – iPad, Android, and Microsoft Windows tablet (Surface Pro) audit software
Building - Building and property audits
Offline – Native iPad, Microsoft Windows Surface Pro, and Samsung Galaxy Android tablet applications with offline (no connection) inspection capability
MS Word – Word document report generation
Prioritize – Priority checklist, tracking, reporting, flag high priority items
Inspectors – Multiple inspectors simultaneously on site, sync multiple inspectors and locations
Field Survey – Onsite/offsite field surveys, site assessment, and data collection
Assign – Inspector job assignments
Record – Corrosion, cracks, cleanliness wear and tear, hose/pipe condition, paint, etc.
Global – Perform work worldwide, in any country, store onside then sync when connection is available, no data is lost if connection is unreliable
Cloud – Sync to cloud server or your SQL server
Microsoft – Microsoft.Net and MSSQL technology
About Inspect2GO:
Inspect2GO's comprehensive software solution consists of 3 components; mobile inspection, database, and web-based office software. Inspections are performed via a mobile application. This "native" mobile app functions offline on an iPad, Windows Surface or Android tablet without the need for an internet connection. The mobile inspection app then syncs with the database residing on the customer's Microsoft SQL Server or the Inspect2GO Cloud. The web-based office software is used to manage the process. Users can schedule inspections, view facility history, reference regulatory codes, print permits, search the database, and generate custom/ad hoc reports all within one comprehensive software package. Inspect2GO tailors its software to meet the unique regulatory needs of each client.