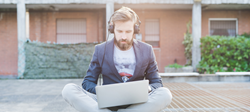 This free website builder is designed to accelerate and facilitate the process of creating a website
LOS ANGELES, CA (PRWEB) July 19, 2016
SITE123, a pioneer in the development of template-based user-oriented online website building platforms, has announced launching a brand new product based on a totally innovative approach. This free website builder is designed to accelerate and facilitate the process of creating a website and make it available even to the least technically savvy users.
"My father, for example, is quite a busy person, very far from being an internet aficionado. Plainly speaking, he has no idea how to create a website. Give him a conventional website builder and he will waste tons of time and end up with something that one would be happy to delete permanently from the web," says Noam Alloush, SITE123 owner and lead developer. "So, we decided to develop a perfect time-saving solution that would forcefully prevent users from making beginner mistakes and coming up with another junk site."
The software is remarkably easy-to-use and features just a few management buttons that allow the user to pick necessary pages out of the offered variety, upload textual and visual content, and choose styles - again, from a collection of predefined sets and color schemes. The platform is programmed to collect the user's initial input and produce a turn-key, ready-to-use website, fully compatible with any imaginable device capable of surfing the Web.
"It is truly the last resort for small enterprises, freelancers or non-commercial organizations," claims Shai Zrihan, CEO at SITE123, "Our product allows to make your own website nearly instantly, while it's stunningly-looking and fully functional. Web designers, developers and localization experts have already done their part, preparing the ground and having shown users how to make a website. Now it's up to the latter to finish the job".
More information about SITE123's services can be obtained from their website http://www.site123.com/.
About SITE123
Established in 2016, SITE123 is an international company providing out-of-the-box web solutions to small and medium-sized businesses worldwide. The company is focusing on development of cloud-based platforms for quick and easy construction of websites and is primarily targeting business clients, not experienced enough to code a website from scratch or unable to afford custom development.
Contact Info:
SITE123, 8939 S.Sepulveda Blvd. Suite 102, Los Angeles, CA 90045, USA
info(at)site123(dot)com