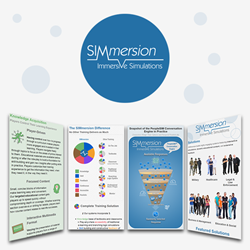 Our technology is cutting-edge, and we need our presence to be cutting-edge as well
Columbia, MD (PRWEB) March 13, 2014
Ten seconds.
That's about how long a landing page has to grab a user's attention, according to the Nielsen Norman Group.
Their research finds that when users come to a site that they decide is irrelevant or difficult to process, they leave in a matter of seconds. At the other end of the spectrum, if they find the site intriguing enough not to bounce away in the first moments, they tend to show high engagement, digging deeply through the site over an extended period.
A well-planned design is crucial to getting and maintaining this more engaged, high-value traffic. SIMmersion announces a newly revamped site at http://www.simmersion.com with design decisions intended to increase engagement and help users over that initial ten-second hump.
"I wanted it to be extremely clean and easy to navigate and read," says Nicolas LoGiudice, Web Developer for SIMmersion. "Nothing should overwhelm or scare the user away."
SIMmersion's previous site was in line with contemporary designs when it was developed, but changing trends prompted the need for a fresh approach. The new design employs large, widescreen sections and a lean writing style, focusing on taglines and key ideas to entice users to learn more. The widescreen trend is associated with high-tech innovation, LoGiudice explains. "Our technology is cutting-edge, and we need our presence to be cutting-edge as well."
The modern widescreen sections also help readability across devices. "With so many phones, tablets and other portable devices in the market, responsive design was a must," says LoGiudice. To accommodate the whole gamut of viewing sizes without a loss of resolution or content, he incorporated a range of libraries into the core Bootstrap 3.0 framework, from FontAwesome for typography to retina.js for iPad optimization. The result is a page that adjusts its design dynamically as the resolution changes, so the presentation is clear on any device, at any size.
Recognizing the power images and logos have to convey a great deal of meaning at a glance, LoGiudice created custom iconography throughout the site to support the text. "SIMmersion's technology is complex and sometimes hard to understand. Icons and imagery help the site stay fun, engaging, and easy to follow."
Animations on the Technology page illustrate complex technical processes in seconds without the weight of words. SIMmersion's dynamic player pathways are one such topic. The company's technology allows users to take almost any path through a virtual conversation, with topics opening, closing, and shifting dynamically based on their choices. An animation of a map with many routes to a central point conveys the concept of flexibility and user choice immediately. "The animations were extremely rewarding when finished," LoGuidice says.
Apart from the challenge of implementing a clean, approachable design for every browser and device, LoGiudice had to weigh the preferences of SIMmersion's widely varied audience of users. Given that SIMmersion has training solutions for users in business, healthcare, law enforcement, the military and more, the background of any given visitor could vary enormously. Visitors' interests could also vary widely, from solo users looking for off-the-shelf training to decision makers looking to contract a custom system for their organizations. "Having to design for commercial space and military/government space in the same scheme is extremely difficult," LoGiudice admits. "I used a strong color palette, but simple colors: whites, blues and gold as an accent. I tried not to alienate any demographic while still adhering to a strong theme."
Revamping the entire company site was a challenge, but the developer looks back on the product with satisfaction. "My goal was to modernize SIMmersion's web presence, equaling the quality of our technology and products," LoGiudice says. With an innovative, contemporary web design on its site, SIMmersion is positioned to engage users and deliver advanced conversation training to any audience.
About SIMmersion
SIMmersion's mission is to train communication skills faster and more effectively by combining the world's most realistic simulated experiences with highly interactive training content and extensive user feedback. For more information, visit the new site at http://www.simmersion.com. Free trial systems available at http://www.simmersion.com/training.