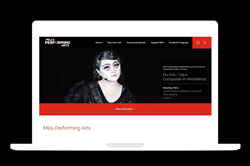 mStoner crafts powerful, tailored, human-centric experiences to illuminate client's brand and allow you to tell the story only you can tell.
CHICAGO (PRWEB) December 20, 2019
The 7th Annual Education Digital Marketing Awards honors six mStoner clients with Gold, Silver, Bronze, and Merit Awards in the website and microsite category for their recent and successful redesigns.
The Education Digital Marketing Awards recognizes the best educational websites, digital content, electronic communications, mobile media, and social media.
Mills Performing Arts website (https://performingarts.mills.edu) received a gold award in the Microsite category. Their challenge was to create a unique, online home for the Performing Arts at Mills under an established University brand that appeals to prospective students and potential patrons of the Arts at Mills. mStoner landed on a creative direction for MPA that pairs well with the Mills.edu brand, speaks to the arts, and has enough restraint to let the beautifully curated imagery and video steal the show. Artful interactions and typography lay on top of an underlying level of clear navigation patterns.
Five more mStoner clients took home awards for their successful website redesigns.
UC Berkeley School of Public Health (https://publichealth.berkeley.edu/) and Lipscomb Academy (https://www.lipscomb.edu/academy) received silver awards in the Websites category. Johns Hopkins School of Advanced International Studies (https://sais.jhu.edu/) received a bronze award in the same category.
Marymount California University (https://www.marymountcalifornia.edu/) and Northeastern University College of Engineering (https://coe.northeastern.edu/) received merit awards.
About mStoner, Inc.
mStoner, Inc. is a creative agency that builds elegant, creative, and effective solutions to your greatest digital challenges. We craft powerful, tailored, human-centric experiences to illuminate your brand and allow you to tell the story only you can tell. We connect you with the right audience at the right time so you can form right-fit relationships. We position your team for improved productivity, sustainable growth, internal alignment, and proof-positive success. And we aim to make your job fun again and help you create inspired work that you are proud to show off. Since 2001, we've worked with more than 350 colleges, universities, and professional schools in the U.S. and abroad. For much more, visit our website at https://www.mstoner.com.