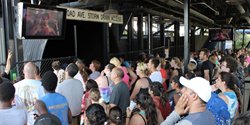 We are really focused on uptime," says Andersen. "By working with ComQi, we've been able to have consistency in our operations.
New York, NY (PRWEB) March 05, 2015
ComQi highlights Six Flags Entertainment Corporation's, the world's largest regional theme park company, heavy use of digital signage to meet marketing, sponsorship, partnership and operations objectives.
The Six Flags case study focuses on the companies media network of screens at its parks that reach guests in ride queues and high traffic areas. The network using ComQi's EnGage content management platform. The park operator is now in the process of getting all of its concession menu systems on EnGage.
Six Flags Media Networks is a cross-platform media vehicle designed to deliver a mass audience and impressions for brand advertisers who work with the theme park operator. Media buys can include print and special events, but the big drivers for Six Flags are the screens around the parks seen by a huge daily, weekly and annual audience.
While most properties in today's highly fragmented media landscape measure audience impression times by seconds or minutes, Six Flags delivers audience dwell times that can be counted in hours.
High quality networked displays are positioned in the queue areas for rides and attractions, entertaining park visitors while they wait.
"We deliver a lot of eyeballs, and the recall rates are super high," says Six Flags' Sean Andersen, who runs the Media Networks program as Director of Interactive Services.
Six Flags now has nearly 200 media players driving over 400 screens across the various parks, and that number will increase more than 50% as menu-boards are converted over from an older system and standardized on EnGage.
Along with LCD display monitors, Six Flags also runs programming on large outdoor LED screens in prominent areas.