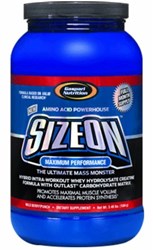 (PRWEB) October 15, 2013
Gaspari Nutrition®, a globally distributed sport nutrition company, is proud to announce that SizeOn received the 2013 Bodybuilding.com award for 'During Workout Supplement of the Year.' It is the fourth time that SizeOn has won a Bodybuilding.com supplement award, which is considered the most prestigious in the supplement industry. SizeOn has three 'During/Intra Workout Supplement of the Year' awards (2010, 2011, and 2013) and one 'Creatine Supplement of the Year' award (2010).
SizeOn is a comprehensive product consisting of creatine, branched chain amino acids, carbohydrates, and whey hydrolysate among many other ingredients. Although its accolades are for intra-workout supplementation, some users choose to take it post workout. SizeOn comes in four flavors and is available in all major sports nutrition retailers. For more information on Gaspari Nutrition, follow them on Twitter (@TeamGaspari) and Facebook.
About Gaspari Nutrition®
Gaspari Nutrition is headquartered in Lakewood, NJ and is a rapidly expanding, healthy lifestyle sports company that develops and distributes a full line of nutritional supplements. Gaspari's propriety and award winning products address all categories of an active lifestyle including muscle building, weight loss, and general fitness through a daily nutritional supplement regimen. They are one of the few companies to sponsor independent, 3rd party research on their products to prove their efficacy. Gaspari Nutrition is sold in over 85 countries, including over 85 Popeye's locations in Canada, and available in over 5,000 US retail outlets that include GNC, Vitamin Shoppe, and Kroger, as well as over 100 online stores, including Bodybuilding.com, Amazon, DrugStore.com, and SupplementsCanada.com. For more information, please visit http://www.GaspariNutrition.com.