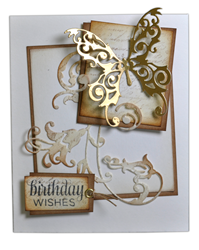 LAKE FOREST, Calif. (PRWEB) February 25, 2015
Sizzix®, the crafts market pioneer and leader in die-cutting machines, steel-rule dies and accessories, is pleased to offer more stylish designs with its newest die-cutting collection.
Five wafer-thin, chemically-etched Thinlits™ dies deliver intricate, dazzling designs that cut bird, butterfly, fairy, flourish and owl shapes for countless papercrafting projects in the new Elegance die-cutting collection by Sizzix designer Pete Hughes.
The Elegance collection by Pete Hughes will be available in stores across the country, including local craft boutiques and major retail craft chains, in March. For more information, visit http://www.Sizzix.com/home.
About Sizzix
Launched in 2001, Sizzix is a division of Ellison Educational Equipment Inc., the market pioneer and leader of die-cutting machines and accessories. Through its portfolio of die-cutting machines and die-cutting products, Sizzix leverages Ellison's 38 years of proven manufacturing and technology heritage to empower creativity among its customer base with new and innovative products. Sizzix is a recognized global brand that can be found in over 100 countries and in major and specialty retailers. For more information on Sizzix and its line of craft-inspiring products, please visit http://www.Sizzix.com/home.