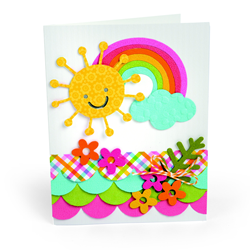 LAKE FOREST, Calif. (PRWEB) March 24, 2015
Sizzix®, the crafts leader in die-cutting machines, steel-rule dies and accessories, is pleased to announce the latest design additions to the doodlebug design inc.™ die-cutting, embossing and stamping collection.
The fanciful new assortment offers Bigz™ dies, Framelits™ die sets with stamps, Sizzlits® Decorative Strips, Thinlits™ die sets and Textured Impressions™ Embossing Folders. Crafters can use these iconic designs to create brilliant cardmaking, papercrafting and scrapbooking projects.
The latest doodlebug design inc. collection will be available in stores around the country, including local craft boutiques and major retail craft chains in April. For more information, visit http://www.Sizzix.com/home.
About doodlebug design inc.
Known for their impressive variety of creative products for the scrapbook industry, doodlebug design inc. offers everything from paper and stickers to buttons and ribbons — all custom manufactured and color coordinated to match their whimsical product line. Partnering with Sizzix once again for fresh and fun themes, this adorable array of products expresses all the little joys of life. Discover more about doodlebug design inc.
About Sizzix
Launched in 2001, Sizzix is a division of Ellison Educational Equipment Inc., the market pioneer and leader of die-cutting machines and accessories. Through its portfolio of die-cutting machines and die-cutting products, Sizzix leverages Ellison's 38 years of proven manufacturing and technology heritage to empower creativity among its customer base with new and innovative products. Sizzix is a recognized global brand that can be found in over 100 countries and in major and specialty retailers. For more information on Sizzix and its line of craft-inspiring products, please visit http://www.Sizzix.com/home.