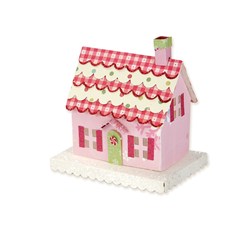 Lake Forest, Calif. (PRWEB) August 14, 2013
Now crafters can create more of their Favorite Things – including more holiday arts and crafts – with the latest Brenda Walton™ die cutting and embossing products for Sizzix® and its Big Shot™ die cutting machine.
Christmas trees, ice skates, reindeers and sleighs highlight the Favorite Things collection. A festive assortment of 19 Bigz™ and Sizzlits® dies fashion holiday ornaments, party décor and personalized gifts, while five sets of Textured Impressions™ Embossing Folders give cheerful designs to papercrafting projects.
The Favorite Things collection by Brenda Walton will be available in stores around the country, including local craft boutiques and major retail craft chains in September. For more information, visit Sizzix.com.
About Sizzix
Launched in 2001, Sizzix is a division of Ellison Educational Equipment Inc., the market pioneer and leader of die cutting machines and accessories. Through its portfolio of die cutting machines and die cutting products, Sizzix leverages Ellison's 36 years of proven manufacturing and technology heritage to empower creativity among its customer base with new and innovative products. Sizzix is a recognized global brand that can be found in over 100 countries and in major and specialty retailers. For more information on Sizzix and its line of craft-inspiring products, please visit http://www.Sizzix.com/home.
# # #