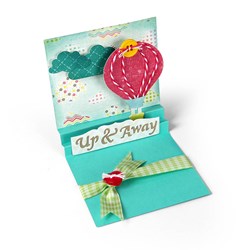 Consumers will find that these designs can be translated into any theme to create heartfelt DIY cards, personalized keepsakes and party decorations. - Cara Mariano, Art Director for Sizzix
Lake Forest, Calif. (PRWEB) September 11, 2013
Arts and crafts projects now have more design choices than ever with the latest Thinlits™ dies for Sizzix® and its Big Shot™ die cutting machine.
Highlighted by intricate labels, frames, Halloween and Christmas designs, the newest 26 Thinlits designs cut cardstock, metallic foil, paper and vellum to create elegant DIY cards, scrapbooking, mixed media and décor projects.
"I really wanted to hit a wide range of design possibilities with this collection of Thinlits by giving crafters options from very fancy and ornate to clean and modern," said Rachael Bright, Sizzix Designer.
And for the first time ever, Sizzix is offering card and box designs as part of the Thinlits launch that fashion fresh, dimensional projects such as milk carton boxes, cards with folding closures and doily pocket inserts.
"Sizzix is excited to add card and box options to our latest Thinlits collection," said Cara Mariano, Art Director for Sizzix. "Consumers will find that these designs can be translated into any theme to create heartfelt DIY cards, personalized keepsakes and party decorations."
The new Thinlits collection is now available in stores around the country, including local craft boutiques and major retail craft chains. For more information, visit Sizzix.com.
About Sizzix
Launched in 2001, Sizzix is a division of Ellison Educational Equipment Inc., the market pioneer and leader of die cutting machines and accessories. Through its portfolio of die cutting machines and die cutting products, Sizzix leverages Ellison's 36 years of proven manufacturing and technology heritage to empower creativity among its customer base with new and innovative products. Sizzix is a recognized global brand that can be found in over 100 countries and in major and specialty retailers. For more information on Sizzix and its line of craft-inspiring products, please visit http://www.Sizzix.com/home.
# # #