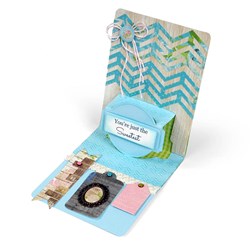 Lake Forest, California (PRWEB) September 24, 2013
Sizzix®, the arts and crafts market pioneer and leader in die cutting machines, steel-rule dies and accessories, is pleased to reveal its newest 3-D pop-up collection of die and embossing products for the Big Shot™ die cutting machine.
Houses, stitched frames, chevron borders, and label trellises are featured in the Pop 'n Cuts™ Snippets collection by dimensional artist Karen Burniston through a modern assortment of Pop 'n Cuts magnetic insert dies, Sizzlits® Decorative Strip dies, Framelits™ die sets and Textured Impressions™ Embossing Folders. The magnetic insert dies are compatible with existing Pop 'n Cuts base dies, while the supporting dies and embossing folders embellish DIY craft projects.
The Pop 'n Cuts Snippets collection by Karen Burniston will be available in stores around the country, including local craft boutiques and major retail craft chains in October. For more information, visit Sizzix.com.
About Karen Burniston
Karen Burniston is a well-known designer and papercrafter who focuses primarily on designing pop-up and interactive techniques. She has been published in all the major papercraft magazines and has contributed to numerous idea books. She teaches pop-up classes at stores and events throughout the world. Her family consists of John, a fellow engineer, twin children, Karl and Emma, and two high-maintenance Puggles. Learn more about Karen and find links to video tutorials for her Sizzix pop-up dies on her blog: I am not left-handed.
About Sizzix
Launched in 2001, Sizzix is a division of Ellison Educational Equipment Inc., the market pioneer and leader of die cutting machines and accessories. Through its portfolio of die cutting machines and die cutting products, Sizzix leverages Ellison's 36 years of proven manufacturing and technology heritage to empower creativity among its customer base with new and innovative products. Sizzix is a recognized global brand that can be found in over 100 countries and in major and specialty retailers. For more information on Sizzix and its line of craft-inspiring products, please visit http://www.Sizzix.com/home.