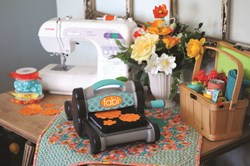 The fabi line empowers consumers to create exciting projects with the tools needed to take their quilting passion to a whole new level! - Susan Spiegel, Ellison's Vice President, Marketing Communications
Lake Forest, Calif. (PRWEB) October 16, 2013
Arts and crafts leader Sizzix® is proud to expand its line of products for today's quilter and appliqué enthusiast with the all-new fabi™ Personal Fabric Cutter, now available in Hobby Lobby stores.
Featuring a taupe and light blue color design, the fabi Personal Fabric Cutter is a complete die cutting system for creating easy beautiful quilting, appliqué and other projects. Accompanied with a free Bigz™ Flower Layers #11 die, a pair of Standard Cutting Pads and a three-year limited warranty, the fabi retails at $119.99 and will be carried in nearly 550 Hobby Lobby stores throughout the country.
"The fabi is based on the same Sizzix product innovation that will make it a consumer favorite," said Susan Spiegel, Ellison's Vice President, Marketing Communications. "The fabi line empowers consumers to create exciting projects with the tools needed to take their quilting passion to a whole new level!"
A selection of 31 basic and popular Bigz and Bigz L quilting die designs are offered for the fabi, complete with new packaging that includes free patterns or projects with instructions, layout options and suggested companion products. Safely encased in rubber, the steel-rule blade inside Bigz dies cuts up to 8 layers of fabric at once, with ease, speed and precision.
"We are very excited to be partnering with Hobby Lobby to launch fabi. Hobby Lobby has a wonderful selection of fabrics, tools and notions," said Andrew Williamson, Director of Sales for Sizzix. "With our new product assortment, customers will find a comprehensive, well-balanced line of piecing dies for quilting as well as appliqué dies to match the unlimited possibilities of our newest machine."
The fabi's compatibility with the expansive library of Sizzix quilting and appliqué dies will allow consumers to enjoy a diverse selection of steel-rule dies including traditional piecing, geometric shapes, appliqué, and strips.
For more information on the fabi Personal Fabric Cutter, visit Sizzix.com.
About Sizzix
Launched in 2001, Sizzix is a division of Ellison Educational Equipment Inc., the market pioneer and leader of die cutting machines and accessories. Through its portfolio of die cutting machines and die cutting products, Sizzix leverages Ellison's 36 years of proven manufacturing and technology heritage to empower creativity among its customer base with new and innovative products. Sizzix is a recognized global brand that can be found in over 100 countries and in major and specialty retailers. For more information on Sizzix and its line of craft-inspiring products, please visit http://www.Sizzix.com/home.
# # #