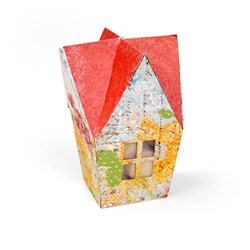 "Our new Where Women Cook line creates quick and adorable timeless designs that are perfect for making your guests or customers feel special," said Jo Packham, Licensed Designer for Sizzix.
Lake Forest, CA (PRWEB) November 13, 2013
Party planners and foodies are getting a tasty arts and crafts treat with the new Where Women Cook™ (WWC) die cutting and embossing collection from Sizzix® for its Big Shot™ die cutting machine.
Where Women Cook™ magazine editor, Jo Packham, brings a creative menu offering of 21 delicious designs to her debut WWC product collection. Highlighted by hanger boxes, cookie pockets and house boxes, the newest additions to her line will allow consumers to create their own dessert containers, party favors, décor items and more.
"Our new Where Women Cook line creates quick and adorable timeless designs that are perfect for making your guests or customers feel special," Packham said.
A versatile assortment of steel-rule Bigz™ and Movers & Shapers™ Dies cut cardstock, fabric, metallic foil, paper and vellum. Accompanying six of the Bigz Dies are matching Textured Impressions™ Embossing Folders in chic heart crown, bird, silverware tags and jar label designs to add the perfect embellishing touch. A 26 Textured Impressions Embossing Folders Alphabet Monogram Set customizes WWC creations in memorable style.
"Jo's inspiring view of culinary décor transforms the WWC line for all occasions," said Cara Mariano, Art Director for Sizzix. "Serving charming craft creations alongside savory cuisine is sure to be a real treat!"
The WWC collection is now available in stores around the country, including local craft boutiques and major retail craft chains. For more information, visit Sizzix.com.
About Where Women Cook
Where Women Cook is a quarterly magazine created by its inspiring Editor-in Chief, Jo Packham, who is also the driving force behind Where Women Create, the popular quarterly magazine that explores the creativity behind inspirational work spaces. Where Women Cook celebrates extraordinary women who are passionate about their kitchens and all things food. Whether its culinary décor, entertaining ideas or mouth-watering food and drink recipes, Where Women Cook is a welcome spice to life. And now with the Where Women Cook design collection for Sizzix, you can complement your cooking with delicious designs that any taste can appreciate.
About Sizzix
Launched in 2001, Sizzix is a division of Ellison Educational Equipment Inc., the market pioneer and leader of die cutting machines and accessories. Through its portfolio of die cutting machines and die cutting products, Sizzix leverages Ellison's 36 years of proven manufacturing and technology heritage to empower creativity among its customer base with new and innovative products. Sizzix is a recognized global brand that can be found in over 100 countries and in major and specialty retailers. For more information on Sizzix and its line of craft-inspiring products, please visit http://www.Sizzix.com/home.