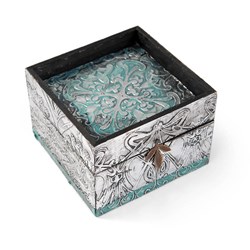 Lake Forest, CA (PRWEB) November 26, 2013
Sizzix®, the arts and crafts market pioneer and leader in die cutting machines, steel-rule dies and accessories, is pleased to preview the latest collection of dies and embossing folders for the Vintaj® jewelry product line.
Made exclusively for the BIGkick™ Machine (Vintaj Special Edition), a charming assortment of 21 Embosslits™ and Thinlits™ dies easily fashion mixed media embellishments for papercrafting, jewelry and home décor projects. Five different sets of Thinlits are accompanied by their own three pack of Textured Impressions™ Embossing Folders, while eight single sets of 6" x 6" Textured Impressions Embossing Folders give beautiful dimension to paper, cardstock, metallic foil or vellum.
The latest Vintaj collection will be available in stores around the country, including local craft boutiques and major retail craft chains, in December. For more information, visit Sizzix.com.
About Vintaj
Ten years ago, two sisters made a career-changing discovery. Playfully and artfully manipulating a filigree bead, Jeanne Holland opened it and wrapped it around a glass stone. Both she and sibling Wendy Mullane immediately realized the possibilities of what they now term "creative settings" and later began to design together full time as Vintaj Design Studios. Soon after, Wendy discovered an eco-friendly process while metalworking to give Vintaj embellishments their unique color and luster. Completing their circle, the sisters invited close friend and designer extraordinaire, Jess Lincoln, to join them. Through these combined efforts, the Vintaj Natural Brass Co. was born in 2005.
About Sizzix
Launched in 2001, Sizzix is a division of Ellison Educational Equipment Inc., the market pioneer and leader of die cutting machines and accessories. Through its portfolio of die cutting machines and die cutting products, Sizzix leverages Ellison's 36 years of proven manufacturing and technology heritage to empower creativity among its customer base with new and innovative products. Sizzix is a recognized global brand that can be found in over 100 countries and in major and specialty retailers. For more information on Sizzix and its line of craft-inspiring products, please visit http://www.Sizzix.com/home.