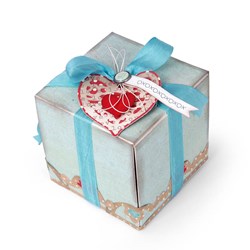 Lake Forest, CA (PRWEB) November 27, 2013
Crafters can soon enjoy a hearty addition of Scrappy Cat® die cutting and embossing products from arts and crafts leader Sizzix® for its Big Shot™ die cutting machine.
A charming offering of 14 heart and laced-themed Bigz™, Thinlits™ and Sizzlits® Decorative Strips dies from Scrappy Cat's "Laced With Love" collection empowers consumers to create elegant DIY cards, favors, banners, home décor items and more. Two elegant sets of Textured Impressions™ Embossing Folders transform ordinary cardstock, paper, metallic foil or vellum with dazzling dimension.
The latest Scrappy Cat collection will be available in stores around the country, including local craft boutiques and major retail craft chains, in December. For more information, visit Sizzix.com.
About Scrappy Cat
Scrappy Cat is an internationally recognized brand in the scrapbooking and paper crafting industry. Founded in 2003 by Kim Roberto, the company debuted its products in February of 2004 at the HIA Show (now called CHA) in Dallas, Texas, and was immediately recognized by Creating Keepsakes Magazine with a 2004 New Product(s) Editor's Choice Award. Known for its highly innovative stamp designs, stylish patterns and coordinating products, Scrappy Cat products are distributed by Darice, Inc., a proven leader in the craft market worldwide. Scrappy Cat is also a licensed designer and brand that collaborates with Sizzix (Ellison) on a wide variety of artistic die designs for the Sizzix lineup of die-cutting machines.
About Sizzix
Launched in 2001, Sizzix is a division of Ellison Educational Equipment Inc., the market pioneer and leader of die cutting machines and accessories. Through its portfolio of die cutting machines and die cutting products, Sizzix leverages Ellison's 36 years of proven manufacturing and technology heritage to empower creativity among its customer base with new and innovative products. Sizzix is a recognized global brand that can be found in over 100 countries and in major and specialty retailers. For more information on Sizzix and its line of craft-inspiring products, please visit http://www.Sizzix.com/home.