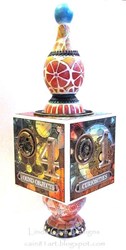 "These incredible 3-D designs are about providing artists of all levels and styles with the building blocks of creativity and the inspiration to create!" said Eileen Hull, Licensed Designer for Sizzix.
Lake Forest, California (PRWEB) January 14, 2014
Sizzix®, the arts and crafts market pioneer and leader in die cutting machines, steel-rule dies and accessories, is pleased to offer creative consumers an exciting new way to express themselves in multidimensional style with Artist Trading Blocks by Eileen Hull®. The expressive product line was shown at the Crafts and Hobby Association 2014 Mega Show in Anaheim, Calif.
Utilizing Hull's signature ScoreBoards™ dies which cut and score chipboard and matboard, the 3-D blocks from her upcoming Cherished collection form the cubes used in the new concept of Artist Trading Blocks—conceptualized by Hull in partnership with blogger Amy Bowerman.
"With Artist Trading Blocks (ATBs), everyone can be an artist," said Hull, Licensed Designer for Sizzix. "These incredible 3-D designs are about providing artists of all levels and styles with the building blocks of creativity and the inspiration to create!"
The blocks, which range in size from 1.5" to 3.25", provide artists with a dimensional canvas to express their creativity with artful keepsakes, décor, favors and trading gifts.
"Crafters will find that Artist Trading Blocks allow them to find new, fun ways to extend the versatility of their dies through unique projects for stamps, paints, stencils and more," said Cara Mariano, Art Director for Sizzix.
Visit TheArtistsOnTheBlock.com, an online community to share ideas, tips, techniques and inspiration for creating with Artist Trading Blocks.
The Cherished collection, which features block dies by Eileen Hull, will be available in stores around the country, including local craft boutiques and major retail craft chains, in February. For more information, visit Sizzix.com.
About Eileen Hull
Eileen Hull is a designer, author and licensed artist whose work has been featured in books, magazines, shops and online. Her design style may be described as clean and sophisticated with a light touch of glitter. Her books, Matboard Magic and Foamboard Magic, were both released in 2008. Specializing in three-dimensional designs, Eileen's primary medium is mat board. Her latest endeavor has been developing an innovative line of dies for Sizzix. ScoreBoards dies are designed to cut and score mat board into boxes, folders and totes. Eileen enjoys working with recycled materials and "treasures" from thrift stores, or even better, those found on the curb!
About Sizzix
Launched in 2001, Sizzix is a division of Ellison Educational Equipment Inc., the market pioneer and leader of die cutting machines and accessories. Through its portfolio of die cutting machines and die cutting products, Sizzix leverages Ellison's 37 years of proven manufacturing and technology heritage to empower creativity among its customer base with new and innovative products. Sizzix is a recognized global brand that can be found in over 100 countries and in major and specialty retailers. For more information on Sizzix and its line of craft-inspiring products, please visit http://www.Sizzix.com/home.
# # #