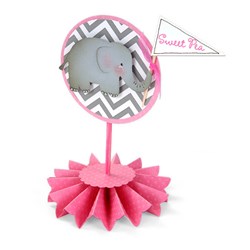 Lake Forest, CA (PRWEB) January 30, 2014
Consumers can cherish heartfelt moments using the new Eileen Hull® arts and crafts collection for Sizzix® and its Big Shot™ die cutting machine.
Highlighting Hull's baby-themed Cherished collection are three-dimensional food jars, blocks, chairs and shoes. This charming assortment is composed of Sizzlits® Decorative Strip Dies, Framelits™ Die Sets, Thinlits™ Die Sets, Bigz™ Dies, Movers & Shapers™ Magnetic Dies and ScoreBoards™ Dies, as well as Textured Impressions™ Embossing Folders. These amazing products empower consumers to craft customized favors, gift boxes, décor and more.
The Cherished collection will be available in stores around the country, including local craft boutiques and major retail craft chains, in February. For more information, visit Sizzix.com.
About Eileen Hull
Eileen Hull is a designer, author and licensed artist whose work has been featured in books, magazines, shops and online. Her design style may be described as clean and sophisticated with a light touch of glitter. Her books, Matboard Magic and Foamboard Magic, were both released in 2008. Specializing in three-dimensional designs, Eileen's primary medium is mat board. Her latest endeavor has been developing an innovative line of dies for Sizzix. ScoreBoards dies are designed to cut and score mat board into boxes, folders and totes. Eileen enjoys working with recycled materials and "treasures" from thrift stores, or even better, those found on the curb!
About Sizzix
Launched in 2001, Sizzix is a division of Ellison Educational Equipment Inc., the market pioneer and leader of die cutting machines and accessories. Through its portfolio of die cutting machines and die cutting products, Sizzix leverages Ellison's 37 years of proven manufacturing and technology heritage to empower creativity among its customer base with new and innovative products. Sizzix is a recognized global brand that can be found in over 100 countries and in major and specialty retailers. For more information on Sizzix and its line of craft-inspiring products, please visit http://www.Sizzix.com/home.
# # #