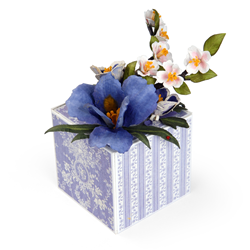 Lale Forest, Calif. (PRWEB) February 26, 2014
Fresh Spring designs for DIY crafts projects await consumers in the new Susan Tierney-Cockburn™ collection for Sizzix® and its family of die cutting machines.
The Sizzix licensed designer captures the delicate compositions of gerbera daisies, hydrangeas, primroses and more in 14 Thinlits™ die sets for her Susan's Garden™ product collection. Crafters can fashion beautiful paper-cut flowers to use as DIY cardmaking embellishments, home décor, gift giving items and other crafting projects.
The latest release of Susan's Garden products will be available in stores around the country, including local craft boutiques and major retail craft chains, in March. For more information, visit http://www.Sizzix.com/home.
About Susan Tierney-Cockburn
Susan has taken a lifetime of creative experiences and turned them into a full-time passion. Whether it's gardening, painting, baking, and, of course, crafting, she has done it all in her own unmistakable style. Her stamping and papercrafts – with a special emphasis on making realistic paper flowers – have led to designing for publications and writing books. In addition, she has blogs dedicated to baking and papercrafting. Susan teams with Sizzix for her second charming crop of products to create incredible floral designs for embellishing cards, scrapbooks or any other craft project.
About Sizzix
Launched in 2001, Sizzix is a division of Ellison Educational Equipment Inc., the market pioneer and leader of die cutting machines and accessories. Through its portfolio of die cutting machines and die cutting products, Sizzix leverages Ellison's 37 years of proven manufacturing and technology heritage to empower creativity among its customer base with new and innovative products. Sizzix is a recognized global brand that can be found in over 100 countries and in major and specialty retailers. For more information on Sizzix and its line of craft-inspiring products, please visit http://www.Sizzix.com/home.