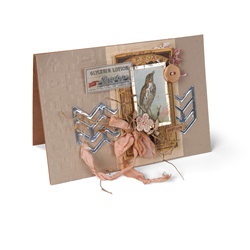 Lake Forest, CA (PRWEB) March 11, 2014
Invigorating the crafts market with further creative possibilities, Tim Holtz® has released his latest assortment of Sizzix® Alterations™ die cutting and embossing products, which debuted at the Craft and Hobby Association Mega Trade Show 2014 earlier this year.
Highlighting the exciting assortment are five new steel-rule Frameworks™ dies that expand mixed media possibilities through stylish patterns. Comprised of geometric Chevron, Courtyard, Honeycomb, Lattice and Trellis patterns that use all its cut components, crafters can create distinctive backgrounds by using the die cut frame, the individual small die cut shapes, or combining both for use in any artistic expression. The steel-rule blade inside Frameworks and other steel-rule dies cut a variety of materials including cardstock, cork, fabric, grungeboard™ and plastic mirror.
"The thing we love most about working with Tim, besides his amazing passion for creativity, is how he looks at the world differently. Only from his creative genius, could we get something as interesting and versatile as Frameworks," said Denzil Quick, Director of Product Development for Sizzix.
Also included in the release are two Sizzlits® Decorative Strips to create 3-D bows and an eclectic collection of butterflies of varying sizes; a Bigz™ Petal Drop Die for creating heart and flower shapes; a Movers & Shapers™ Long Matchbox Die for multiple use; and a Courtyard & Trellis Texture Fades™ Embossing Folders Set for added dimensional brilliance. The assortment complements previous Alterations releases, as well as Tim's motorized Vagabond™ Machine for Sizzix, expanding the collection's creative reach. Crafters will enjoy the versatile offerings to create inspiring altered art masterpieces, craft and home décor items and mixed media projects.
The March collection of Tim Holtz Alterations products is now available in local craft boutiques and major retail craft chains around the country. For more information, visit http://www.Sizzix.com/home.
About Alterations
The Tim Holtz Alterations line of products is a creative assortment that brings together many mixed-media dies and embossing products for countless creative applications with the motorized Sizzix Vagabond Machine. Each element was specifically designed to work with Tim's other products to inspire paper crafters and mixed-media artists to discover their true creativity.
About Tim Holtz
Tim Holtz is the Creative Director for Ranger Industries, one of the leading manufacturers of innovative inks, paints and embossing products. Tim plays an integral part in the development and design of cutting-edge papercrafting products. Tim has teamed up with various key companies like Advantus, Tonic Studios, Sizzix, Stampers Anonymous and Core'dinations to bring unique products that work hand in hand. Learn more about Tim and connect to video tutorials and his blog at TimHoltz.com.
About Sizzix
Launched in 2001, Sizzix is a division of Ellison Educational Equipment Inc., the market pioneer and leader of die cutting machines and accessories. Through its portfolio of die cutting machines and die cutting products, Sizzix leverages Ellison's 37 years of proven manufacturing and technology heritage to empower creativity among its customer base with new and innovative products. Sizzix is a recognized global brand that can be found in over 100 countries and in major and specialty retailers. For more information on Sizzix and its line of craft-inspiring products, please visit http://www.Sizzix.com/home.
# # #