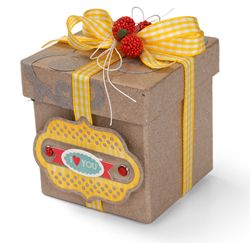 Lake Forest, Calif. (PRWEB) June 25, 2014
Craft designer extraordinaire, Lori Whitlock, is redefining 3-D and DIY crafts projects with her inaugural collection for Sizzix® and its family of die cutting machines.
Dynamic owl bags, berry baskets, mailboxes and wallets lead Whitlock's do-it-yourself vision of customized creativity. The collection includes an exciting assortment of steel-rule Bigz™ dies, with coordinating embellishments from Originals™ dies, Thinlits™ die sets and Textured Impressions™ Embossing Folders.
The debut Lori Whitlock collection will be available in local craft boutiques and major retail craft chains in July. For more information, visit http://www.Sizzix.com/home.
About Lori Whitlock
Over the past 10 years, Lori Whitlock has designed for many prominent companies in our industry. Lori currently licenses paper designs and fabric, as well as digital cutting and scrapbooking files. Her brand new assortment of designs for Sizzix enhances cardmaking, scrapbooking, home décor and other handmade crafts. With many practical and dimensional base dies at its core, the collection offers unlimited embellishment possibilities with her paper, fabric or other material.
About Sizzix
Launched in 2001, Sizzix is a division of Ellison Educational Equipment Inc., the market pioneer and leader of die cutting machines and accessories. Through its portfolio of die cutting machines and die cutting products, Sizzix leverages Ellison's 37 years of proven manufacturing and technology heritage to empower creativity among its customer base with new and innovative products. Sizzix is a recognized global brand that can be found in over 100 countries and in major and specialty retailers. For more information on Sizzix and its line of craft-inspiring products, please visit http://www.Sizzix.com/home.