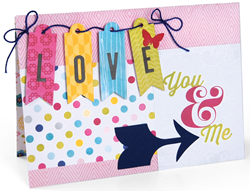 'Echo Park's newest collection uses basic designs as a strong foundation for making fun projects,' said Cara Mariano, Art Director for Sizzix. 'Crafters will be thrilled with the creative possibilities these engaging products have to offer!'
Lake Forest, CA (PRWEB) August 11, 2014
Bringing added brilliance to the essentials of design, Echo Park Paper Company presents its newest collection of die-cutting, embossing and stamping products for Sizzix® and its family of die-cutting machines.
A versatile compilation of Framelits™ die sets with stamps, Thinlits™ die sets, Bigz™ dies and Textured Impressions™ Embossing Folders allow consumers to create do-it-yourself cards, gift tags, party décor, scrapbook pages and more.
Two Framelits die sets with complementing clear stamps ink crisp designs and sentiments that are perfectly die-cut using the open Framelits design. A dual set of wafer-thin, chemically-etched Thinlits die sets cut, emboss and stencil arrows, banners and labels. Steel-rule Bigz and Bigz XL dies fashion borders, cards, pennants, tags, thought bubbles and more from cardstock, chipboard, fabric, leather, vinyl and more. Two sets of Textured Impressions Embossing Folders embellish geometric stylish patterns for papercrafting projects while adding elegance.
"Echo Park's newest collection uses basic designs as a strong foundation for making fun projects," said Cara Mariano, Art Director for Sizzix. "Crafters will be thrilled with the creative possibilities these engaging products have to offer!"
The Echo Park collection is now available in stores around the country, including local craft boutiques and major retail craft chains. For more information, visit http://www.Sizzix.com/home.
About Echo Park Paper Co.
Taking their name from the location of the early Hollywood studios, the Echo Park Paper Company offers a unique, timeless approach to style, form and format. Their paper lines depict a wide range of bright and playful images with subtle sophistication. Through an exciting partnership, Sizzix transforms some of Echo Park's most popular designs into dazzling dies. Experience Echo Park.
About Sizzix
Launched in 2001, Sizzix is a division of Ellison Educational Equipment Inc., the market pioneer and leader of die-cutting machines and accessories. Through its portfolio of die-cutting machines and die-cutting products, Sizzix leverages Ellison's 37 years of proven manufacturing and technology heritage to empower creativity among its customer base with new and innovative products. Sizzix is a recognized global brand that can be found in over 100 countries and in major and specialty retailers. For more information on Sizzix and its line of craft-inspiring products, please visit http://www.Sizzix.com/home.
# # #