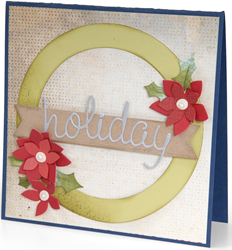 Lake Forest, Calif. (PRWEB) August 26, 2014
Inspiring festive designs await crafters in the newest BasicGrey® die-cutting and embossing products for Sizzix® and its family of die-cutting machines.
Christmas trees, ornaments, snowflakes and wreaths are among the highlights in BasicGrey's 25th & Pine collection. A cheerful assortment of five Bigz™ dies and three Thinlits™ die sets fashion cards, home décor and personalized gifts, while two sets of Textured Impressions™ Embossing Folders give traditional holiday patterns to papercrafting projects.
The 25th & Pine collection by BasicGrey will be available in stores around the country, including local craft boutiques and major retail craft chains in September. For more information, visit http://www.Sizzix.com/home.
About BasicGrey
Deliciously different. Ambitiously diverse. Remarkably distinct. That's BasicGrey. BasicGrey is an award-winning, US-based design house which creates self-branded and licensed products for the scrapbooking, fabric and general craft industries. This multi-disciplined team also creates digital content that can be transformed into digital scrapbooks, blogs and e-cards. Originality is the backbone of every BasicGrey design, as well as for every product manufactured and every approach to a new project. BasicGrey strives to set the standard and not follow the trend. This hobby innovator sees themselves as the bar to be measured by and the company to watch because of their one-of-a-kind qualities. BasicGrey remains true to its popular avant-garde style, offering artists exceptional designs and products.
About Sizzix
Launched in 2001, Sizzix is a division of Ellison Educational Equipment Inc., the market pioneer and leader of die-cutting machines and accessories. Through its portfolio of die-cutting machines and die-cutting products, Sizzix leverages Ellison's 37 years of proven manufacturing and technology heritage to empower creativity among its customer base with new and innovative products. Sizzix is a recognized global brand that can be found in over 100 countries and in major and specialty retailers. For more information on Sizzix and its line of craft-inspiring products, please visit http://www.Sizzix.com/home.
# # #