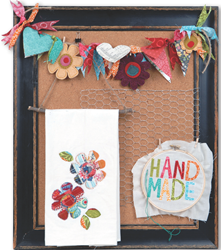 Lake Forest, CA (PRWEB) August 27, 2014
Sizzix®, the crafts pioneer and market leader in die-cutting machines, steel-rule dies and accessories, is expanding its artistic library of innovative products with the addition of Stephanie Ackerman to its design family.
Ackerman has designed 14 versatile new designs to celebrate mixed-media creativity in the Sizzix Homegrown & Handmade die-cutting, embossing and stamping collection. A chic assortment of Bigz™ dies, Originals™ dies, Framelits™ die sets and Textured Impressions™ Embossing Folders help create practical art, cards, journal embellishments, décor items and more.
The Homegrown & Handmade collection by Stephanie Ackerman will be available in local craft boutiques and major retail craft chains in September. For more information, visit http://www.Sizzix.com/home.
About Stephanie Ackerman
Whether it's paper, fabric, paper, dough or paint, Stephanie Ackerman is a mixed media artist who's a lot like you, combining a busy mom lifestyle with her many creative passions. A former member of the Prima Education Team, a rubber stamp designer for Purple Onion Designs and now a die designer for Sizzix, Stephanie draws upon her vast experiences in stamp carving, stitching, art journaling, making tags and working with canvas and wood to inspire this uniquely upbeat collection just for you! Learn more about Stephanie by visiting her website: StephanieAckermanDesigns.com.
About Sizzix
Launched in 2001, Sizzix is a division of Ellison Educational Equipment Inc., the market pioneer and leader of die-cutting machines and accessories. Through its portfolio of die-cutting machines and die-cutting products, Sizzix leverages Ellison's 37 years of proven manufacturing and technology heritage to empower creativity among its customer base with new and innovative products. Sizzix is a recognized global brand that can be found in over 100 countries and in major and specialty retailers. For more information on Sizzix and its line of craft-inspiring products, please visit http://www.Sizzix.com/home.
# # #