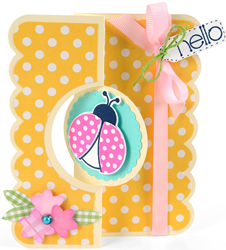 Lake Forest, CA (PRWEB) January 28, 2015
Sizzix®, the crafts market pioneer in die-cutting machines, steel-rule dies and accessories, is pleased to present the latest additions to the Stephanie Barnard® die-cutting, embossing and stamping collection.
Using baby, banner, bird, kite, sun and tag Triplits™ die sets, consumers can die-cut versatile shapes for an array of creative projects. Expanding cardmaking originality are two Framelits™ Step-Ups™ featuring birthday and friendship themes, while two Framelits die sets with stamps and two Textured Impressions™ Embossing Folders create bugs, dots, florals and tags for papercrafting or scrapbooking projects.
The latest Stephanie Barnard collection will be available in stores around the country, including local craft boutiques and major retail craft chains in February. For more information, visit http://www.Sizzix.com/home.
About Stephanie Barnard
If it's possible to live, breathe, eat and sleep scrapbooking and stamping, Stephanie Barnard is giving it her best shot. Besides serving as the Sizzix spokesperson, she also offers the company's research and development team invaluable insights into new products from the crafter's perspective. Stephanie is also a licensed designer and the inspiration behind her own line of creative products for Sizzix. Stephanie is the owner and designer of a clear stamp company, The Stamps of Life. Their stamps are proudly manufactured in the USA. In addition, Stephanie is a highly sought-after teacher and demonstrator and has appeared on numerous television shows with her work included in many books, magazines and websites.
About Sizzix
Launched in 2001, Sizzix is a division of Ellison Educational Equipment Inc., the market pioneer and leader of die-cutting machines and accessories. Through its portfolio of die-cutting machines and die-cutting products, Sizzix leverages Ellison's 38 years of proven manufacturing and technology heritage to empower creativity among its customer base with new and innovative products. Sizzix is a recognized global brand that can be found in over 100 countries and in major and specialty retailers. For more information on Sizzix and its line of craft-inspiring products, please visit http://www.Sizzix.com/home.
# # #