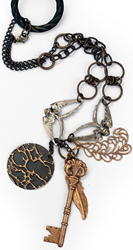 LAKE FOREST, Calif. (PRWEB) May 27, 2015
Sizzix®, the crafts market pioneer and leader in die-cutting machines, steel-rule dies and accessories, is proud to announce the latest additions for its Vintaj® jewelry product line.
Six new DecoEtch™ and DecoEmboss™ dies emboss or etch an array of intricate textures onto pre-cut Vintaj metal blanks, creating fashionable metal jewelry pieces for use in altered art, jewelry and mixed media projects.
The latest Vintaj collection will be available in stores around the country, including local craft boutiques and major retail craft chains, in June. For more information, visit http://www.sizzix.com/home.
About Vintaj
Vintaj® was founded by three women who share a passion for designing jewelry. Together, they have created a unique product to inspire all. Opening the door to endless possibilities, their naturally beautiful brass findings are hand finished and made in the USA. In 2011, Vintaj partnered with Sizzix to create beautiful dies for embossing and etching metal. This perfect pairing allows you to create personalized jewelry that is truly a one-of-a-kind expression.
About Sizzix
Launched in 2001, Sizzix is a division of Ellison Educational Equipment Inc., the market pioneer and leader of die cutting machines and accessories. Through its portfolio of die cutting machines and die cutting products, Sizzix leverages Ellison's 38 years of proven manufacturing and technology heritage to empower creativity among its customer base with new and innovative products. Sizzix is a recognized global brand that can be found in over 100 countries and in major and specialty retailers. For more information on Sizzix and its line of craft-inspiring products, please visit http://www.sizzix.com/home.
# # #