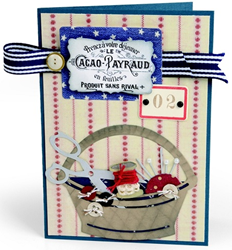 LAKE FOREST, Calif. (PRWEB) June 23, 2015
Offering French-inspired designs that create versatile crafting projects with die-cutting machines, Sizzix® is pleased to present the debut die-cutting, embossing and stamping collection from French General.
Boxes, button holders, envelopes and thread winders are featured in a classic assortment of Bigz™ dies, Framelits™ die sets with stamps, Thinlits™ die sets and Textured Impressions™ Embossing Folders, designed by Kaari Meng, the inspiring owner of the acclaimed Los Angeles fabric, jewelry and crafts store.
The French General collection will be available in stores around the country, including local craft boutiques and major retail craft chains, in July. For more information, visit http://www.sizzix.com/home.
About French General
Bringing the classic look of the rural French countryside to the United States, French General is a vintage craft store/workshop located in Los Angeles, California. Specializing in beads, buttons, millinery and textiles, their French-inspired collection is all about crafting with beautiful textiles and a simple vintage color palette. Having personally combed French flea markets for many of her unique treasures, Kaari Meng, the founder and owner of French General, has designed jewelry for Anthropologie, quilt fabrics for Moda, textiles for Fabricut and has authored several books, including French-Inspired Jewelry, The French Inspired Home, Handmade Soirees, Treasured Notions and more. Now French General teams up with Sizzix for an exciting collection to organize beads, buttons, needles and notions.
About Sizzix
Launched in 2001, Sizzix is a division of Ellison Educational Equipment Inc., the market pioneer and leader of die-cutting machines and accessories. Through its portfolio of die-cutting machines and die-cutting products, Sizzix leverages Ellison's 38 years of proven manufacturing and technology heritage to empower creativity among its customer base with new and innovative products. Sizzix is a recognized global brand that can be found in over 100 countries and in major and specialty retailers. For more information on Sizzix and its line of craft-inspiring products, please visit http://www.sizzix.com/home.
# # #