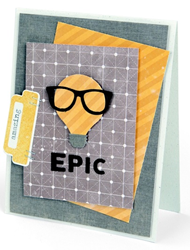 LAKE FOREST, Calif. (PRWEB) June 25, 2015
Crafting with Sizzix® die-cutting machines will soon have new inspiring products to create with thanks to the latest release of Hampton Art™ products featuring designs by Jillibean Soup™.
A varied assortment of Bigz™ dies, Framelits™ die sets with stamps, Thinlits™ die sets and Textured Impressions™ Embossing Folders feature the whimsical design style of Jillibean Soup for Hampton Art. Highlighting the new products are file divider, hot air balloon, music sheet and photo frame designs, ideal for DIY cards, home décor items and papercrafting projects.
The Hampton Art collection featuring Jillibean Soup will be available in stores around the country, including local craft boutiques and major retail craft chains, in August. For more information, visit http://www.sizzix.com/home.
About Hampton Art
Hampton Art was founded in 1980 by the Gallagher family. For over 20 years, the Gallagher's manufactured premium quality rubber stamps, clear stamps and stamping accessories featuring popular designer lines. The company was sold in 2007 to National Spinning in North Carolina and continues its tradition of creating premium products while expanding the company's offerings with new and exciting partnerships such as the recent collaboration with Sizzix. Learn more about Hampton Art.
About Jillibean Soup
Specializing in fresh, innovative and high-quality products for the paper crafting industry, Jillibean Soup products are manufactured with close attention to color, detail and design. This inspiring company prides itself in finding the best ingredients to create fun designs that whimsically suit any taste or time. Joining forces with Hampton Art, Inc., a leading stamp and stamp accessory manufacturer for over 20 years, Jillibean Soup has utilized this talented staff to market, manufacture, and distribute its unforgettable products. With its releases for Sizzix, Jillibean Soup continues to cook up a delicious blend of style and versatility for your next card, scrapbook page and more. Discover more about Jillibean Soup.
About Sizzix
Launched in 2001, Sizzix is a division of Ellison Educational Equipment Inc., the market pioneer and leader of die-cutting machines and accessories. Through its portfolio of die-cutting machines and die-cutting products, Sizzix leverages Ellison's 38 years of proven manufacturing and technology heritage to empower creativity among its customer base with new and innovative products. Sizzix is a recognized global brand that can be found in over 100 countries and in major and specialty retailers. For more information on Sizzix and its line of craft-inspiring products, please visit http://www.sizzix.com/home.