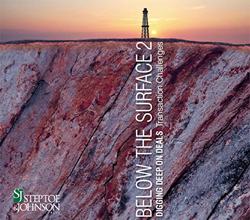 Bridgeport, W.Va. (PRWEB) February 10, 2015
Steptoe & Johnson PLLC has produced a follow-up to its award-winning "Below the Surface" shale gas research. The latest study, "Below the Surface 2: Digging Deep on Deals," takes a hard look at energy transactions and deals to find where natural gas producers are exploring for energy, their level of involvement, lessons they've learned, and what roadblocks they must overcome to succeed.
Nearly 200 energy professionals working in shale plays across the United States including the Utica, Marcellus, Niobrara, and Eagle Ford participated in the research survey. The respondents included executives, landmen, and in-house counsel from more than 100 different companies, with more than 60 percent involved in acquiring land/leases, drilling, and oil and gas production.
Some of the questions asked of the respondents included:

What do you consider the largest transactional challenges facing the industry?
What are the major causes of concern when acquiring mineral assets?
Will transactional concerns increase in 2015?
When asked for their words of wisdom and lessons learned, respondents were not shy about offering advice to shale producers. One said, "Understand what you know and don't know about shale and gas development." Another added, "Plan ahead, focus on details, and proactively get out ahead of any key public issues."
To view "Below the Surface 2: Digging Deep on Deals," visit: http://www.sjenergyresearch.com.
About Steptoe & Johnson
Steptoe & Johnson PLLC is a U.S. law firm with more than 300 attorneys and core strengths in energy, business, employment, and litigation. Steptoe & Johnson operates 15 offices in six states including Colorado, Kentucky, Ohio, Pennsylvania, Texas, and West Virginia. For more information, visit http://www.steptoe-johnson.com and connect with us on Twitter and LinkedIn.
For more information, contact Betsy Spellman, Chief Marketing Officer, at (304) 933-8000 or by email: press(at)steptoe-johnson(dot)com.