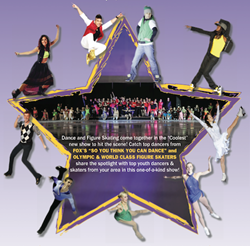 It is skating and dance coming together - an artistic revolution - that spotlights Stars with kids, like never before. It is a must-see show!
Mentor, OH (PRWEB) April 01, 2014
Skate Dance Dream, a new kind of show that unites dance and figure skating on one stage, showcasing Nationally recognized Stars with over 100 top local youth dancers and figure skaters, will be returning to Mentor, Ohio for one final Cleveland area performance!
The show will take place at 7:00pm on April 12, 2014 at the Mentor Ice Arena.
The Show will feature a Star dance cast including: Top 4 finalist from season 8 and highest placing breakdancer ever on the Fox hit show "So You Think You Can Dance" Tadd Gadduang; Season 10 of "SYTYCD" tap dancer, Alexis Juliano; and, Season 4, Top 10 finalist on "SYTYCD" Gev Manoukian. On the ice, 2010 Olympian and 2-time U.S. National Ice Dancing medalist, Emily Samuelson, and 2012 U.S. National Junior Silver medalist, Ashley Cain, will round our the Star cast. Also performing will be the National Intermediate Synchronized Skating Bronze Medalists, The Mentor Ice Diamonds. *Star cast is subject to change.
One of the "coolest" aspects of the show experience is seeing the interactive atmosphere created between the Stars, youth cast members, and fans. Some of the expected highlights are group numbers where the Stars perform with the kids and getting to watch the Stars dazzle live with backflips, spins, and more as they soar and leap through the air!
The show is delivered in an intimate setting that celebrates the arts in their best light. It inspires all to dream big and will bring out the kid in each of us.
"With two of America's favorite arts center stage, Skate Dance Dream has something for everyone. It offers a glimpse into the amazing talent of all ages, both locally and nationally. It is fun, innovative, surprising, and so much more. It is skating and dance coming together - an artistic revolution - that spotlights Stars with kids, like never before. It is a must-see show!" says Parker Pennington, Executive Producer of Skate Dance Dream and former U.S. National Figure Skating Champion at 4 levels.
For tickets to SDD Mentor, OH or more information, including future tour dates, please visit http://www.SkateDanceDream.com.
About Skate Dance Dream
Skate Dance Dream is an innovative show experience combining dance and figure skating, teaming together Stars with the next generation of talent. It offers young dancers and figure skaters the opportunity to perform with and learn from their heroes and gives attendees the chance to see Stars in a new light - sharing the spotlight with today's youth!
Our mission is to "provide a creative medium to improve awareness and participation from our youth in organized skating and dance in local communities. We want to offer support, strength, and encouragement for today's youth to skate and dance their way to their dreams." Skate Dance Dream was founded in 2011 by Parker Pennington, U.S. National figure skating champion at four levels.