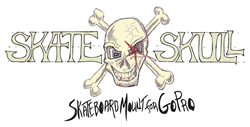 (PRWEB) December 03, 2014
Jim and Vincent Buckley are proud to announce the launch of a Kickstarter campaign for their latest business venture. Skate Skull introduces a new, innovative skateboard mount that's compatible with GoPro Hero 3 and Hero 4 cameras.
Many third-party GoPro mounts have been created to capture the unique perspectives of specific sports, however, to date there have been no durable options for capturing GoPro footage from a skateboard. Products that are on the market either limit what can be done on the skateboard or offer inadequate protection that leaves the expensive camera vulnerable to damage.
The Skate Skull GoPro mount addresses these issues with a high-impact encasement that fits precisely at the front or back of trucks beneath the board and can easily be mounted on the top of the board as well. Vincent Buckley and his father Jim Buckley, the engineer and creator of Buckley Fence systems, came up with the concept in order to give skateboarders a way to get footage from under a board without hindering the ability of the athlete.
The Kickstarter campaign features a video that showcases footage caught while using the Skate Skull mount from various positions. Backers that donate $59 or more will receive one of the first-run Skate Skull mounts. Additional perks, such as product design consultations with Jim Buckley, are also available depending on the donation amount.
Product features of the Skate Skull GoPro mount include:

8 different mounting possibilities – on top and bottom of the deck from the front or back of both trucks
Mount fully protects the GoPro camera
Camera start/stop controls can be accessed while mounted
Camera lights are visible while mounted
Weighs approximately four ounces
Up to 4 mounts can be used simultaneously
Audio can still be captured by the GoPro
Mount constructed using a lightweight yet highly durable powder-coated magnesium alloy
UV filter protects the camera lens
Fits both new-school and old-school truck mount patterns
Mount attaches quickly
Designed to allow for easy front loading and removal of the camera
Durable enough to grind on the actual mount itself
The innovative design allows for complete freedom while skating, catching the action of every trick whether it is simple cruising, flips or grinding. The company also has complimentary products in development that will provide skateboarders with added GoPro usability and flexibility while using the Skate Skull mount.
This noteworthy GoPro mount has already been named a Staff Pick on Kickstarter, indicating that the organization has high expectations for Skate Skull. To learn more about the Skate Skull skateboard mount or to become a backer, visit the company's Kickstarter campaign page.
About Skate Skull
Skate Skull is innovating the way skateboarders and avid GoPro videographers capture the action of skateboarding. The company's flagship product, a revolutionary GoPro skateboard mount, enables riders to keep their camera fully protected from underneath the board even while grinding. Eight different angles can be captured from below and above the board, and up to four mounts can be attached at any given time for synchronized shots.