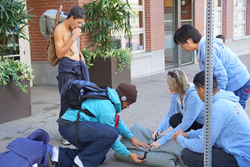 giving back to the community is an important aspect of Skech's culture and what we stand for as a company.
San Diego, CA (PRWEB) November 28, 2016
In the spirit of Thanksgiving "Skech" decided to buy coats from the unique organization "The Empowerment Plan" and donate them to those in need in San Diego.
"The Empowerment Plan" is a Detroit based nonprofit organization focused on permanently elevating families from the generational cycle of homelessness. The organization hires single parents from local shelters and provides them with training and full-time employment as seamstresses so that they can earn a stable income, find secure housing, and regain their independence. These individuals are hired to manufacture a unique coat (EMPWR) designed to meet the needs of those in the homeless community. The EMPWR coat is a durable, water-resistant jacket, which can transform into a sleeping bag, or be worn as an over-the-shoulder bag when not in use. According to "The Empowerment Plan," it costs $100 to sponsor a coat, which covers the cost of labor, materials, and overhead expenses. The Empowerment Plan is predominantly supported by donations from private individuals, large corporations and foundations.
This activity was part of the Thanksgiving campaign, "Cover the Homeless." Our goals at Skech for this campaign is to raise awareness to this cause and encourage people to donate a coat:
https://www.gofundme.com/Skech-cover-the-homeless
According to Avishag Ravid (Skech COO), "Giving back to the community is an important aspect of Skech's culture and what we stand for as a company. We chose The Empowerment Plan as this year's charitable contribution, as I was inspired by the founder and CEO, Veronika Scott, who demonstrates that anyone, at any age, with any experience, can have a meaningful and significant impact on society. At the early age of 24, Veronika not only invented a coat to treat the issue of homelessness, she also found a small scale solution to treat the causeby hiring and training individuals from homeless shelters to manufacture the coats."
Cover The Homeless - by Skech on youtube
About SKECH:
SKECH, established in 2003, based in San Diego, CA, is a Southern California designer and manufacturer of accessories for smartphones and tablets. SKECH is recognized for bringing perfectly crafted products to the market and leading trends in design, functionality, and material. SKECH's product line includes award winning cases and accessories for Apple, Samsung, LG, HTC, and more.
For more information, please visit:
https://www.facebook.com/skechit/#
http://www.skechit.com/
press(at)skechit(dot)com