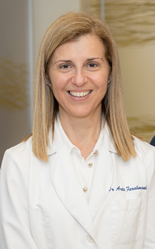 Restoring the function and aesthetics of a healthy smile, dental implants are now the tooth loss treatment preferred by patients and clinicians alike.
TORRANCE, Calif. (PRWEB) May 29, 2019
Experienced periodontist, Dr. Arta Farahmand, welcomes patients interested in learning more about the gold standard in tooth replacement solutions and restoring a seamless smile. Dr. Farahmand encourages those with missing teeth to consider placement of dental implants in Torrance, CA as a long-term solution. Restoring the function and aesthetics of a healthy smile, dental implants are now the tooth loss treatment preferred by patients and clinicians alike.
Millions of Americans smile confidently with dental implants. Once placed by a skilled periodontist, dental implants can last 10 years or longer with proper at-home and in-office dental care.
Dental implants are the only restorative solution that mimics both the crown and root portion of a missing tooth. Unlike other solutions, dental implants are placed directly into the jawbone. Replacing the role of a natural tooth root, each implant post helps stimulate healthy bone growth. Without it, the jawbone will begin to deteriorate, lose bone volume and can eventually even change facial shape. Bone loss can also cause surrounding teeth to shift and become loose, which can lead to changes in the bite and additional tooth loss.
Anyone with missing teeth is welcome to receive a non-invasive consultation for dental implants, however, some patients may need bone grafting in order to become a qualified candidate for treatment. Dr. Farahmand offers customized bone grafting treatments as well as tooth extractions before implant surgery to help each patient receive the functional, healthy and complete smile they need.
Dr. Farahmand shares her passion for implant dentistry by attending and leading study clubs dedicated to advancing implantology such as the Advanced Aesthetic and Implant Treatment Study Club of Torrance. Also an active member of numerous organizations, including the American Academy of Periodontology, Dr. Farahmand applies over 29 years of experience and training placing dental implants to each smile she restores.
Patients who wish to talk with an implant specialist about their candidacy for dental implants in Torrance, CA, may contact Dr. Farahmand's office at 424-488-7500.
About the Periodontist
Dr. Arta Farahmand is an experienced periodontist serving the Torrance, CA area. With knowledge, skill, and dedication, Dr. Farahmand has made it her life's goal to help people look and feel better. Completing her Bachelor's and Doctorate of Dental Surgery degrees from Northwestern University, she later completed her specialty certificate in periodontics from Emory University School of Postgraduate Dentistry. An active member of American Academy of Periodontology, past president of the Western Los Angeles Dental Society and California Society of Periodontics among other organizations, Dr. Farahmand understands just how critical continuing education is in offering high-quality periodontal care. Dr. Farahmand offers the latest techniques for dental implants, laser gum disease therapy, gum recession treatment and a variety of other periodontal services at her state-of-the-art office. To learn more about Dr. Farahmand or her services, visit http://www.periodentalimplants.com or call 424-488-7500 for a personalized consultation.