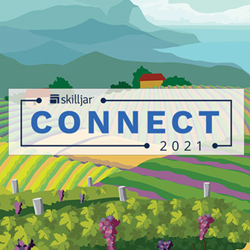 Being selected as a member of the Deloitte Technology Fast 500 is such an incredible honor because it recognizes our rapid growth. Celebrating this award with our customers at Connect 2021 makes it even more special.
SONOMA, Calif. (PRWEB) November 17, 2021
Skilljar, the recognized leader in external learning management software, today opened day two of its annual user conference, Skilljar Connect 2021, with the announcement of being recognized in the 2021 Deloitte Technology Fast 500 list of the fastest growing companies in technology.
This achievement caps off an impressive series of awards and industry recognition given by customers and experts. Most recently, Skilljar won two APPEALIE awards for being a top SaaS application and delivering excellence in its approach to customer success. Prior to that, Skilljar has been listed multiple times as a Leader in G2 for LMS providers as well as selected as a Top 40 Vendor by the publication Talented Learning.
"Being selected as a member of the Deloitte Technology Fast 500 is such an incredible honor because it recognizes our rapid growth," said Sandi Lin, CEO and Co-founder of Skilljar. "It puts us alongside an amazing set of other businesses who are also leading and redefining their own industries, like we are doing with the LMS market for customer and partner education."
Skilljar Connect brings together the industry's best minds in customer and partner education to learn, interact, and share their ideas. Now in its fourth year, Skilljar Connect 2021 is in person at the Fairmont Sonoma for two days of insight-rich keynotes, expert panels, and compelling roundtable discussions dedicated to creating best-in-class customer training and certification programs.
"After pivoting to a successful virtual event in 2020, I'm so glad that improved vaccination rates and our COVID protocols have allowed us to return Skilljar Connect to being the largest in-person event focused on customer and partner training and education. Our customers are true leaders and we all learn so much from their unique experiences and perspectives," said Michael Freeman, VP of Marketing at Skilljar.
The successful event and recent awards are additional key milestones in what has been an impressive 2021:

Significant product enhancements to the best software for customer onboarding and training on the market including:
Launched new integrations with Caveon and ProctorFree to expand its support of High-Stakes Testing and Certifications
Developed multiple improvements to strengthen its capabilities for Instructor-led Training (ILT) and Virtual Instructor-led Training (VILT)
Upgraded the industry's most advanced customer education software integration with Salesforce, including a redesigned Lightning experience
Improved visibility and change tracking with the release of the Audit Log
A strengthened management team to help Skilljar scale through its incredible growth with the addition of Kathy Lord (Chief Revenue Officer), Michael Freeman (VP of Marketing), Niran Kundapur (VP of Product), and Laura Wiler (VP of Finance and Operations)
Rapid growth in Skilljar's customer base with impressive wins at fast-growing and admirable organizations such as Gong, Hopin, and Shopify
Since its founding, Skilljar has set a bold path in the customer and partner education space by providing a powerful, easy to use external LMS that is unmatched across the industry. As 2021 winds to a close, 2022 offers a bright future for the customer education industry.
For more information, please visit skilljar.com.
About Skilljar
Skilljar is the best external LMS to educate, engage, and retain everyone you do business with. Skilljar believes that the most successful companies are those that have the most users who know how to successfully use their products. Purposefully built for external audiences and a great user experience, Skilljar's powerful cloud software integrates with the rest of the customer-facing tech stack such as CRM, marketing automation, and customer success tools. Founded in 2013, Skilljar is based in Seattle and backed by top-tier venture capital firms Insight Partners, Mayfield, Trilogy Equity Partners, and Shasta Ventures. For more information, visit http://www.skilljar.com.
About Deloitte
Deloitte provides industry-leading audit, consulting, tax and advisory services to many of the world's most admired brands, including nearly 90% of the Fortune 500® and more than 7,000 private companies. Our people come together for the greater good and work across the industry sectors that drive and shape today's marketplace — delivering measurable and lasting results that help reinforce public trust in our capital markets, inspire clients to see challenges as opportunities to transform and thrive, and help lead the way toward a stronger economy and a healthier society. Deloitte is proud to be part of the largest global professional services network serving our clients in the markets that are most important to them. Now celebrating 175 years of service, our network of member firms spans more than 150 countries and territories. Learn how Deloitte's more than 330,000 people worldwide connect for impact at http://www.deloitte.com.
For additional details on the Technology Fast 500, including the complete list and qualifying criteria, visit http://www.fast500.com.
Media Contacts
For Skilljar
Michael Freeman
michael.freeman (at) skilljar (dot) com