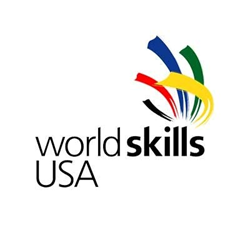 3M and WorldSkills USA share a commitment to addressing the shortage of qualified skilled workers across many industries
LEESBURG, Va. (PRWEB) September 04, 2019
The WorldSkills USA team won a bronze medal in Heavy Vehicle Technology and earned four Medallions of Excellence at the WorldSkills Competition held Aug. 22-27 in Kazan, Russia. SkillsUSA, the organization that represents the United States in the WorldSkills Competition, fielded and trained the team of 22 career and technical education competitors.
Based on total points scored overall, the U.S. team moved up 15 places in world rankings when compared to the 2017 WorldSkills Competition in Abu Dhabi, United Arab Emirates. Ryan Meppelink of Zeeland, Mich., was awarded a bronze medal for Heavy Vehicle Technology and Best in Nation for having the highest score for the team.
Medallions of Excellence, awarded to competitors who earn 700 out of 800 possible points, were earned by Paul Danenberg of Boise, Idaho, in Automobile Technology; Ryan Fincher of Cedartown, Ga., in Welding; Rebekah Hagberg of Bloomington, Ill., in Hairdressing; and Dylan Wertz of Tiffin, Ohio, in Car Painting. The team narrowly missed earning four additional Medallions of Excellence.
The 2019 WorldSkills USA team members tested their skills against 1,354 competitors from 63 member countries working in 56 occupational areas. They competed for four days and demonstrated their excellence in a variety of trade and technology contest areas. Accompanied by their teachers, trainers and experts from industry, these young people competed before the public in contests that were run and judged against demanding international standards. They represent SkillsUSA's top students as determined through state and national skills competitions and further trial projects and run-offs.
Members of the WorldSkills USA team:

Automobile Technology: Paul Danenberg, 21, Boise, Idaho
Auto Body Repair: David "D.J." Fors, 19, Lunenburg, Mass.
Aircraft Maintenance: Alex Millikan, 22, Trinity, N.C.
Baking: Daylan Torres, 20, Fall River, Mass.
Bricklaying: Kelby Thornton, 19, Midland, N.C.
Cabinetmaking: Ethan Harrison, 18, Blackfoot, Idaho
Car Painting: Dylan Wertz, 19, Tiffin, Ohio
CNC Milling: Scott May, 19, Port Huron, Mich.
Cooking: Julia Spondike, 21, Lorain, Ohio
Cyber Security: Mawadda Abuhamda, 17, Chandler, Ariz.
Cyber Security: Jason McGee, 18, San Tan Valley, Ariz.
Graphic Design Technology: Anthony Moore, 19, Adrian, Mich.
Hairdressing: Rebekah Hagberg, 18, Bloomington, Ill.
Heavy Vehicle Maintenance: Ryan Meppelink, 20, Zeeland, Mich.
Mechanical Engineering: Benjamin Campbell, 19, Nampa, Idaho
Mechatronics: Ryan Hittepole, 20, Albemarle, N.C.
Mechatronics: Curt Love, 20, Oakboro, N.C.
Plumbing and Heating: Timothy Girouard, 19, Southampton, Mass.
Print Media: Brittany Whitestone, 20, Westminster, Md.
Restaurant Service: Robert "Colt" Schultz, 17, League City, Texas
Web Design: Matthew Vreman, 20, Parrish, Fla.
Welding: Ryan Fincher, 21, Cedartown, Ga.
3M was the lead sponsor of the 2019 WorldSkills USA team. "3M and WorldSkills USA share a commitment to addressing the shortage of qualified skilled workers across many industries," said Mojdeh Poul, executive vice president, 3M Safety and Graphics Business Group. "As a global science-based company, we recognize that science, technology, engineering and math (STEM) skills are the foundation for many trades. This sponsorship is about inspiring the next generation of skilled workers."
Other proud team sponsors were Ferguson and Lowe's.
About SkillsUSA
SkillsUSA is a nonprofit partnership of education and industry founded in 1965 to strengthen our nation's skilled workforce. Driven by employer demand, SkillsUSA helps students develop necessary personal and workplace skills along with technical skills grounded in academics. This SkillsUSA Framework empowers every student to succeed at work and in life, while helping to close the "skills gap" in which millions of positions go unfilled. Through SkillsUSA's championships program and curricula, employers have long ensured schools are teaching relevant technical skills, and with SkillsUSA's new credentialing process, they can now assess how ready potential employees are for the job. SkillsUSA has more than 360,000 annual members nationwide in high schools, colleges and middle schools, covering over 130 trade, technical and skilled service occupations, and is recognized by the U.S. departments of Education and Labor as integral to career and technical education. For more information: http://www.skillsusa.org
About WorldSkills
The first WorldSkills competition was held in 1950 in Madrid, Spain. In 1973, SkillsUSA (then called the Vocational Industrial Clubs of America) was recognized as the official U.S. representative to WorldSkills. Hundreds of thousands of spectators, public policymakers, employers, teachers, trainers, technical experts and government officials from around the world attended the biennial competition, including a delegation of more than 50 supporters from the United States including staff, board members, business partners, teachers and family of the students. WorldSkills has come to symbolize the pinnacle of excellence in vocational training. It provides a unique means of exchange and comparison of world-class competency standards in the industrial trades and service sectors of the global economy. The continued growth of WorldSkills attests to the fact that traditional trade and craft skills, along with newer technology's multi-skilled occupations, make an essential contribution to the economic and social well-being of people everywhere. For additional information on the WorldSkills USA team, visit: http://www.worldskillsusa.org
About 3M
3M applies science in collaborative ways to improve lives daily. With $32 billion in sales, 3M's 91,000 employees connect with customers all around the world. Learn more about 3M's creative solutions to the world's problems at http://www.3M.com or on Twitter @3M or @3MNews.