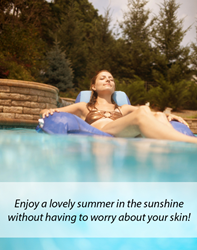 Summer is full of fun and relaxation, but it's also one of the worst times for your skin.
Seattle, WA (PRWEB) July 01, 2014
"While summer is full of fun and relaxation, it's one of the worst times for your skin, and especially your face," Dr. Bryan McIntosh explains in a recent blog article about summer skin care and chemical peel treatments.
"The sunshine may feel warm and refreshing," he explains, "But the ultraviolet rays hitting your skin wreak havoc on the aesthetic health of your face."
Dr. Bryan McIntosh is a nationally renowned cosmetic surgeon with extensive expertise in the art and science of plastic surgery. He fully understands the need for proper skin care during summer in order to protect skin from the harmful rays of the sun that damage the face and quicken aging.
Schedule a free consultation with Dr. Bryan McIntosh by visiting his website - http://www.yourseattleplasticsurgery.com.
Most people are unaware that skin, and especially facial skin, begins the aging process when people are still quite young - about twenty years old. Without proper care and maintenance, the summer sun will only hasten the aging process.
Chemical peels are one recommended procedure for preparing facial skin for long days in the summer sun. The article explains the application process of a chemical peel, emphasizing that the chemical formation compound that Dr. McIntosh uses is known to be excellently applicable to all skin types.
"Working with a licensed medical aesthetician to sustain or regain your skin's youthful, healthy glow is an important part of cosmetic care during summertime," the article says.
About Dr. Bryan McIntosh
Dr. Bryan McIntosh, of the Greater Seattle area, is a plastic surgeon. He greatly enjoys his work, which he considers fulfilling and energizing. He specializes in breast augmentations, tummy tucks and skin care. He practices in Bellevue, WA.
Dr. Bryan McIntosh
12301 NE 10th Place, Suite 100
Bellevue, WA 98005
Phone: (425) 318-7565