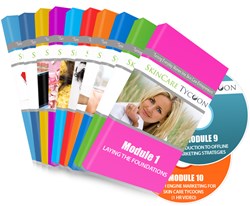 Skincare Tycoon provides you with all the answers you need in one place to make and market beautifully re-saleable skin care products!
(PRWEB) January 09, 2014
For those looking to follow their passion while working from home, look no further. Skincare Tycoon has launched a 12-module education course for skincare entrepreneurs.
Aspiring skincare entrepreneurs have always been on the lookout for courses that could serve as a launch platform for creating their own line of products. HowtoMakeSkincare.com helps people explore their talent, create their own skincare products, and turn their passion for skincare into their very own business with a step-by-step program.
Take a look at this 12-module education course here.
Over the past 10 years Weaver has become a successful name in skincare industry. This course is designed to pass on that knowledge to other women striving for the same.
Everything needed to develop and control a new successful skincare business is incorporated within the Skincare Tycoon education series. The various things that students learn include developing their own unique brand, creating their products, focusing on cost-effective tools, labeling their skincare wares, listing ingredients properly, and manufacturing guidelines are the most focused topics.
Michelle Koegst, who completed the program recently, was quoted as saying - "I thank Nerida for putting the years of experience, industry know-how and vast knowledge of the many facets of creating and building a successful skincare business into this fantastic learn-at-home package. The information is provided in an easy to understand format. The modules are comprehensive without being overwhelming."
When asked about personal experiences, Nerida was quoted as saying - "Having been interested in natural skincare ever since I was a little, I finally decided to create my own natural range of products, after finishing university."
The course is intended to help the beginners who're aspiring to get started, but it also covers many advanced concepts as well.
People interested in knowing more about the course can log on to http://www.howtomakeskincare.com or email Nerida to seek any kind of help.
About Skin Care Tycoon
http://www.skincaretycoon.com offers a comprehensive course that teaches women everything they need to know about starting their own skincare product line. It has information about the right places to source the best ingredients, how to physically make the skin care products and package them, creating nice labels, buying proper containers etc., and more.
Contact information:
Skin Care Tycoon
Po Box 930 Coolum Beach QLD 4573
Ph: 1300 559 209.
admin(at)skincaretycoon(dot)com