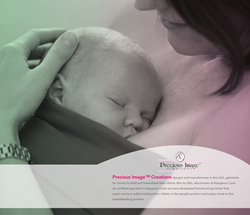 Our goal is to provide quality, stylish clothing for mothers to give the ultimate gift of breastfeeding and Skin-to-Skin Care to their infants. ~Sylvia Houston, Founder
(PRWEB) December 03, 2014
The topics covered products developed for Kangaroo Mother Care/Skin-to-Skin (http://preciousimagecreations.com/) Contact and barriers to this very important care for newborns.
Read more here: MoH to promote Kangaroo Mother Care to help save premature babies.
Precious Image Creations with a history of 11 years of developing garments to support Skin to Skin Contact for labor/ delivery, C-Sections, NICU/ Postpartum care and the first year of life was able to share how their garments help to fill the Mom's needs such as breastfeeding, holding their baby hands free, support for the breast when not holding her baby, pumping hands free with or without baby and Coverage for the breast when breastfeeding or pumping.
The entire line is designed for Moms to safely hold and nurture their babies Skin to Skin (http://preciousimagecreations.com/) to receive all the benefits available.
Some of the main barriers to overcome is information on Kangaroo Mother Care and mothers' sleeping. A garment to safely holding their baby is always needed because holding an infant induces sleeping for Mom.
If you would like more information on the barriers, go to our website here.
About Precious Image Creations
Founded 1983 by Sylvia Houston | Headquartered in Grayson, Georgia
Tel: (770) 979-4320
Email: sylvia(at)preciousimagecreations(dot)com
Website: http://preciousimagecreations.com
Precious Image Creations began in 1983 to design and manufacture innovative and fashionable clothing for Moms to allow ease and discretion while breastfeeding.
When Precious Image learned of Skin to Skin Contact and the dramatic difference in the overall health and bond between the baby and the Mom, we then began to develop products to promote Skin-to-Skin Contact.
Precious Image worked closely with focus groups, birthing centers and national and international experts in Skin to Skin Contact to develop garments that would allow a Mom to hold her baby in Skin-to-Skin Contact, breastfeed, be discreet, and hands-free. We now have a full line of garments from which moms can choose.