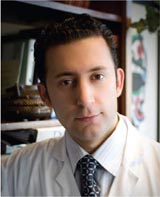 Los Angeles, CA (PRWEB) May 27, 2014
Los Angeles skin cancer doctor, Dr. Peyman Ghasri, now offers Mohs micrographic surgery to treat skin cancer. More than two million Americans are diagnosed with skin cancer every year, and more skin cancers are diagnosed than breast cancers, lung cancers, colon cancers and prostate cancers combined. Mohs micrographic surgery is considered the most effective treatment with the highest cure rate available for skin cancer today.
About Dr. Peyman Ghasri, Dermatologist Los Angeles
Dr. Peyman Ghasri is a top Los Angeles skin doctor and has been specially trained in the Mohs micrographic procedure. After graduating magna cum laude from UCLA, Dr. Ghasri received numerous awards and scholarships, including a full scholarship to UC Irvine School of Medicine. While there, he maintained a perfect academic record and graduated at the top of his class. He completed training in general and plastic surgery followed by a dermatology residency. He has been active in the research field and has been published extensively in peer-reviewed journals. Today, Dr. Ghasri is a member of the American Society of Mohs Surgery, a diplomat of the American Board of Dermatology and a Fellow of the American Society of Dermatologic Surgery.
Mohs micrographic surgery was first developed in the 1930s and has been developed and refined into a precise, highly effective treatment that can be used to remove the entire tumor while minimizing damage to the healthy tissues adjacent to the tumor. Squamous skin cancer, Basal Cell skin cancer and Melanoma skin cancer can all be treated with Mohs micrographic surgery. It is most effective in treating cancers with irregular borders, cancers that are likely to return, cancers in visible areas such as the eyelids, cancers that are growing quickly or cancers in children.
The success rate for Mohs micrographic surgery is 99 percent. Los Angeles dermatologist Dr. Peyman Ghasri uses the procedure to remove skin cells layer by layer and examine each layer under the microscope until health margins have been obtained. This procedure virtually eliminates the risk of recurrence while preserving the functional and cosmetic appearance of the skin. The wound can also be repaired at the same time as the cancer is removed, which means a simpler procedure for the patients.