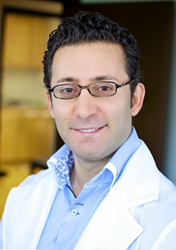 San Fernando Valley, CA (PRWEB) June 29, 2015
San Fernando Valley skin doctor, Dr. Peyman Ghasri, is now offering non-invasive treatments designed to lift and tighten sagging skin. Ulthera is a special treatment that offers a way to firm sagging facial and neck skin without injections or surgery. Instead, it uses ultrasound technology to gently stimulate collagen production. Ulthera is highly targeted and precise to help reduce treatment time and improve outcomes.
The Process
Ulthera takes about an hour and can be used not only on the face but also the thighs, abdomen and arms to create a firmer, tighter look. Dr. Ghasri, expert in Ultherapy in San Fernando Valley, will ask patients about their preferences and treatment goals, and then areas of concern will be marked. A local anesthetic is available and can be used to numb the treatment areas. Dr. Ghasri uses the Ultherapy applicator to stimulate and energize the affected tissues. The treatments areas will continue improving for up to 90 days after the initial treatment. Candidates for Ultherapy include those who have loose or lax skin due to aging or weight loss.
Other Treatments
Dr. Ghasri is an elite dermatologist who offers treatments for both medical and cosmetic issues, including:

Hair loss
Eczema
Botox for migraine
Pediatric rashes
Scars
Warts
Moles
Skin cancers
Loose skin
Aging skin
Age spots
Spider and varicose veins treatment
Unwanted hair
According to his team, "Dr. Ghasri strives for excellence in every area of his practice be it meticulous attention to detail or simply establishing a personable and comfortable relationship with his patients … Dr. Ghasri takes pride in drawing on his artistic creativity gained through his unique training. His special interests are in surgical dermatology as well as various cosmetic procedures notably in facial contouring, utilizing the appropriate soft tissue fillers and Botox in combination with lasers." He offers extensive medical and cosmetic options to transform his patients' skin health and beauty using a comprehensive, multi-pronged approach.
About Dr. Ghasri
Dr. Peyman Ghasri is a native of the San Fernando Valley area. After graduating magna cum laude from UCLA, Dr. Ghasri continued his education at UC Irvine School of Medicine. He received additional surgical training at UCLA and completed his residency at UC Irvine. He has pioneered leading-edge research in the various applications of Thermage and has spoken at national and International lectures. Dr. Ghasri is multilingual and speaks English, Spanish and Farsi.