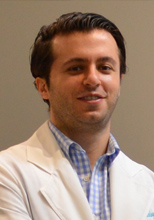 San Fernando Valley, CA (PRWEB) December 08, 2015
Dr. Pedram Ghasri, skin doctor, has now joined Castle Dermatology Institute. Dr. Ghasri has specialized in medical, surgical and cosmetic dermatology. He is widely experienced in all aspects of dermatology, including the treatments of acne, bullous diseases, eczema, hair loss, skin infections, psoriasis, rosacea and vitiligo. He also offers extensive cosmetic treatments, including Botox, chemical peels, fillers, laser resurfacing and sclerotherapy. Castle Dermatology Institute is proud to welcome him to their team.
A board-certified dermatologist, Dr. Pedram Ghasri has extensive experience in cosmetic, medical and surgical dermatology. He is a native of the San Fernando Valley area and attended UCLA. After graduating with a BS in neuroscience, Dr. Ghasri attended UC Irvine as a Regents Scholar. During his time at the University of California, Irvine, Dr. Pedram Ghasri was honored with a variety of awards and distinctions, including an election into the Alpha Omega Alpha honor society.
After graduation, Dr. Ghasri completed his internship and residency, during which he was recognized as the Chief Resident of the Year and was awarded a preceptorship by the American Society of Dermatologic Surgery. He is an avid researcher and continues to remain active in research and advancing his knowledge and skill sets, including:

Mohs surgery
Cosmetic dermatology
Laser surgery
Reconstructive surgery
Skin cancer treatment
His work has been published extensively in peer-reviewed journals such as "Dermatologic Surgery," "Drugs in Dermatology" and "Journal of the American Academy of Dermatologist." He offers diverse treatments for patients from all walks of life, including those with serious chronic skin conditions, those with traumatic injuries and those who want a rejuvenated look.
About Castle Dermatology Institute
"Our goal is to achieve complete patient satisfaction and astounding results by combining leading-edge treatments with advanced diagnostics and an artistic eye. Our dermatologist creates treatment plans that are based on your unique skin type, your needs and your treatment goals," according to the team at Castle Dermatology. Treatment options are extensive and are designed to restore or maintain skin health while improving aesthetics and function. The office welcomes patients from throughout the area.