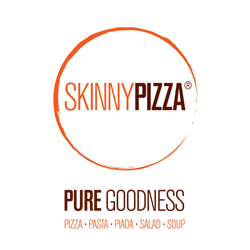 We know great food here and the fact that the menu has organic, hormone-free and fresh farm-to-table ingredients is timely and a huge plus.
New York, NY (PRWEB) November 23, 2015
Less than a week after announcing their long-awaited first franchisee - allergist, clinical immunologist, and Today Show guest Dr. Denis A. Bouboulis, M.D. - the healthier NYC pizza sensation, SKINNYPIZZA® has announced that they are "going west" with multi-unit restaurant developer JFK Holdings, LLC. Their first restaurant is scheduled to open spring of 2016 in Dallas / Ft. Worth and the company plans to open at least ten locations throughout the Metroplex.
JFK Holdings, owned by local entrepreneurs Kelly Revis and Joe Barkate, announced that they will be "making pizza that's good for you" by bringing SKINNYPIZZA to Dallas / Ft. Worth. Revis said, "SKINNYPIZZA is without question the best pizza I've ever tasted...and it's healthy! Pure goodness is a perfect description. From our first bite, Joe and I just had to bring that unique experience to Dallas / Ft. Worth." Managing partner of JFK Holdings and yoga enthusiast Kelly Revis added, "We know great food here and the fact that the menu has organic, hormone-free and fresh farm-to-table ingredients is timely and a huge plus."
SKINNYPIZZA founder and CEO Joseph Vetrano said, "Since the very beginning I've thought long and hard about who, where, and when to expand and I've worked really hard with US FOODS on how to expand. I had to make sure that our organic and hormone-free ingredients would be available everywhere. Our pizza has to taste exactly the same everywhere as it does here in New York, and New Yorkers know what I'm saying, our water could not be the difference."
Senior company franchise recruiter Vince Blumetti said that "SKINNYPIZZA's New York City reviews, its healthy menu approach, and fast-casual concept has created a great deal of attention from quality franchise investors worldwide." Blumetti explains, "You can't help but love the brand positioning, down to the custom GreenBox the pizza is delivered in. The most important concern of SKINNYPIZZA is to work with dedicated franchisees like Dr. Bouboulis and JFK Holdings that both appreciate the vision and have the wherewithal to properly develop markets like Greenwich, Connecticut and Dallas / Ft. Worth."
Current company plans include not only modest domestic growth of 10 to 12 units for 2016, but also the disclosure of international markets that appreciate healthier New York style pizzas, pastas, organic salads, and fresh farm-to-table greens.
ABOUT SKINNYPIZZA
After life-long experience with authentic Napoli-New York style pizza and over six years of research and development, SKINNYPIZZA is the New York Post's #1 rated, best-tasting pizza that carefully uses a no-additive crust, USDA organic tomatoes, and hormone-free, nitrate-free toppings. SKINNYPIZZA, along with its staff registered dietician, serves only all-natural and additive-free pizzas, GMO-free pastas, USDA organic salads, farm-to-table greens, high-fructose corn syrup-free sodas, soups, sandwiches, and optional organic craft beers.
SKINNYPIZZA® is based in New York City at Brookfield Place, Two World Financial Center, 225 Liberty Street, Suite 251, New York, NY 10281. For more information visit: skinnypizza.com