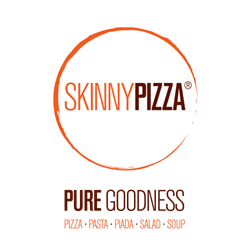 "As a society, we are all moving toward a more natural, healthy preservative and allergen free diet...and SKINNYPIZZA gets to the heart of this explosive culinary movement."
New York, NY (PRWEB) November 18, 2015
Healthier New York pizza sensation, SKINNYPIZZA®, has just announced their long-awaited franchise expansion with the addition of their first and very special franchisee, Allergist & Clinical Immunologist Dr. Denis A. Bouboulis MD.
Denis A. Bouboulis, MD, FACAAI, FAACA of Greenwich, Connecticut joins SKINNYPIZZA because he believes the brand has not only established real New York pizza taste but also properly caters to the millions of American vegans and individuals with food allergies. Dr. Bouboulis, who is a renowned expert on food related allergic and auto immune reactions and has appeared as an NBC - Today Show guest says, "Gluten and dairy are often improperly processed by the immune system. This can lead to behavioral and personality changes in children in addition to severe allergic reactions."
Dr. Bouboulis explains, "These foods often need to be eliminated from the diet otherwise symptoms can persistent affecting mood, socialization and even school performance in children." Dr. Bouboulis adds, "I have always recognized the need for providing vegan and gluten free Americans with the opportunity to enjoy great pizza. As a society, we are all moving toward a more natural, healthy preservative and allergen free diet." Dr. Bouboulis concludes, "… and SKINNYPIZZA gets to the heart of this explosive culinary movement."
SKINNYPIZZA Founder and CEO Joseph Vetrano said, "We are really pleased with the obvious endorsement of leading Immunologist Dr. Bouboulis. We have been thrilled that fellow New Yorkers love our pizza and with our Brookfield Place location, we've had franchise interest from around the world. But I wanted to wait for the right moment and franchisee. Denis presented the moment."
The company anticipates additional expansion this year and plans a growth rate of 6-10 units per year. Focus is said to be primary markets that support a healthier approach to great tasting New York style pizza, pasta, organic salads and farm-to-table greens.
ABOUT SKINNYPIZZA
After life-long experience with authentic Napoli-New York style pizza and over six years of research and development, SKINNYPIZZA is the New York Post's #1 rated, best tasting pizza that carefully uses a no-additive crust, USDA organic tomatoes and hormone-free, nitrate-free toppings. SKINNYPIZZA along with its staff Registered Dietician, serves only all-natural additive free pizzas, GMO-free pastas, USDA organic salads, farm-to-table greens, high-fructose corn syrup free sodas, soups, sandwiches and optional organic craft beers.
SKINNYPIZZA® is based in New York City at Brookfield Place, Two World Financial Center, 225 Liberty Place, Suite 251, New York, NY 10281. For more information visit: http://www.skinnypizza.com.
###