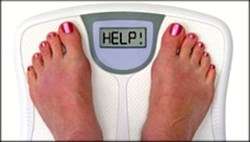 Boston, MA (PRWEB) December 08, 2013
In Health Nutrition News' newest article and video the experts talk about dieters' daily metabolic rate, the impact it has on daily caloric burn, and how dieting causes the body to decrease its fat burning potential. It further details how caloric intake is restricted during a diet and leptin, the body's number one fat burning hormone, protects itself from starvation by storing body fat.
The experts from Health Nutrition News also discuss the components that make up a dieters metabolic rate. The element most responsible is the basal metabolic rate (BMR), which is often used interchangeably as resting metabolic rate, which constitutes 60-75% of all calories burned on any given day. The video notes that in order to get a faster metabolism the key is to raise the body's basal metabolic rate.
Furthermore both the video and the article gives some tips and advice on things to avoid, specifically dieting, that cause the body's metabolism to slow down. More importantly they also discuss what actions can be taken to speed up an individual's metabolism. The nutritionists suggest eating more carbs and protein as each has its own benefits to the body's metabolism and fat burning hormones. The full article on increasing metabolism can be read here.
Additionally, a free copy of this 30 second hormone fix is available for a limited time at http://healthnutritionnews.org/skip-dieting-increase-metabolism.
Get a copy today and use the body's metabolism to lose weight and stop dieting.