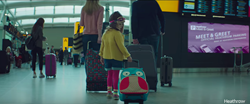 As a global brand, we are honored for Skip Hop to be included in the Heathrow's first ever television campaign
New York, NY (PRWEB) August 09, 2016
Last week, Heathrow began airing its first ever television campaign, "First Flight," celebrating 70 years of flight at the airport. Global lifestyle brand Skip Hop is thrilled to have played a key role in the advertisement. Set to David Bowie's "When I Live My Dream," the commercial captures the magic of flying through the eyes of a 5-year-old girl, Harriet, accompanied by her travel companion "Owly," i.e. Skip Hop's Otis Owl rolling luggage. Harriet journeys from home to Heathrow and then onto a flight, marveling at all the magic around her with her trusty suitcase by her side.
"As a global brand, we are honored to be included in the Heathrow Airport's first ever television campaign," says Ellen Diamant, Founder and Chief Creative Officer at Skip Hop. "Our Zoo collection is all about encouraging children's independence through every milestone. We think Otis Owl makes the perfect 'first flight' companion."
Otis Owl's star turn should come as no surprise to frequent fliers, who are more than likely to spot Skip Hop's Zoo Collection in the overhead bins or rolling through the airport concourse. But while Otis Owl Rolling Luggage is already one of Skip Hop's most popular items, the brand reports that Amazon.uk sales of the product have tripled since the commercial began airing.
Jonathan Coen, Heathrow's Commercial Director said: "The role of our heroine's luggage was a key position to cast for our first ever television commercial. Otis Owl perfectly complemented the wonder, magic and whimsy of a first flight from Heathrow and we were delighted he could join us for our 70th birthday celebrations.'
Skip Hop's Otis Owl Zoo Kids Rolling Luggage retails for $35.00 USD and is available at SkipHop.com and global retailers. For those traveling to Heathrow, the suitcase may also be purchased at the airport's Terminal 2's John Lewis.
ABOUT SKIP HOP INC.: At Skip Hop, we know that the world of new parenthood is a fine balance of being overjoyed and overwhelmed. We're here to tip that balance with stylish, well-curated products known as "Must-Haves made Better." Skip Hop products are embraced by families who crave smartly designed, highly functional solutions that simplify decision-making. Founded in 2003 and based in New York City, Skip Hop is one of the best-selling and most globally recognized brands for parents, babies and kids. For more information, visit http://www.skiphop.com or join the conversation on Facebook or Instagram by using #skiphop #MustHavesMadeBetter.
ABOUT HEATHROW: Now in its 70th birthday year, Heathrow is the UK's hub airport, home to more than 80 airlines connecting to more than 180 destinations. Every year Heathrow welcomes over 70 million passengers with a commitment to 'making every journey better'. Following an investment of more than £11 billion since 2004, passengers have voted Heathrow the 'Best Airport in Western Europe', 'Best Airport Terminal' for Terminal 5 and 'Best Airport for Shopping' 7 years in a row.