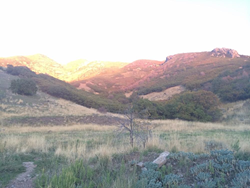 Cottonwood Heights, UT (PRWEB) November 18, 2014
In the heart of ski country on the east bench of the Wasatch Mountains in Cottonwood Heights, Utah is one of the most desirable commercial development properties in the country. With 29 acres of developable land, nearly 16 acres of open space, and another parcel on the premises nearly 15 acres in size, this is an enormous patch of highly sought-after land in prime ski resort territory.
The city of Cottonwood Heights is nicknamed the "City Between the Canyons" due to its location in the Salt Lake Valley. With a population of over 34,000, the city is growing rapidly -- at the time of the 2000 census, the population was only 27,569 -- and is home to several corporate headquarters, such as Dyno Nobel, Extra Space Storage, JetBlue Airways, Overstock.com and Fusion-io. It was also ranked in the top 100 of Money magazine's list of best places to live in 2007.
The property is listed at $2,995,000 with an opening bid of $1,750,000 if no offer is received by the November 22 auction. The street address is 3720 Golden Oaks Drive; the zip code is 84047. Cottonwood Heights is near a suburban area commonly referred to as the "Top of the World," and is located just minutes (17 miles) away from Salt Lake City; residents use Interstate 215 to commute.
The highly motivated sellers of this property have indicated that they plan to entertain early bids and offers. Buyers are most likely already researching this property, and coming to decisions about whether to make a purchase, so potential buyers are advised to act fast.
Interested parties should visit micoley.com to find more photos and details about the property, or visit in person and perform an inspection on site, which is highly recommended. (866) 371-3619 is Micoley.com's information line. Additionally, Micoley.com features a live chat service through which questions can be answered.
About Micoley.com:
Green Bay, Wisconsin-based Micoley.com is a real estate marketing firm specializing in project focused auctions of bank-owned properties throughout the United States. The Micoley.com approach to real estate marketing tailors each auction plan to the client's individual needs. The site is constantly being updated for the benefit of buyers, as large-scale auction events are held monthly, and new properties are added daily. Broker Firm: Micoley.com LLC #9058255-CN00. Broker: Wade Micoley #9058236-PB00.