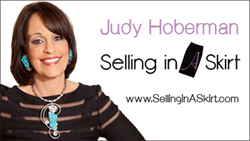 Passion and motivation are fundamental building blocks for success. You cannot have one without the other, and you cannot have success without both.
(PRWEB) December 22, 2014
Judy Hoberman has built a reputation as an expert in sales, particularly as this field pertains to women. Her company, Selling in a Skirt, was founded in order to give women in sales the support they need to balance family, work and pleasure and to be successful in their chosen fields. Her book of the same name addresses women's need to use gender-based talents in sales and how male managers can understand and help them utilize these qualities. Judy's website at http://sellinginaskirt.com/ is dedicated to helping women find the right techniques to increase their productivity, without sacrificing their personal lives.
Judy's latest book, Selling in a Skirt, published by Next Century Publishing, contains many of the basic ideas that will be covered during the six-week online workshop. This workshop consists of several components designed to help women achieve new levels in sales, including weekly group Q&A calls; one personal laser-focused coaching call in which Judy herself will mentor and guide participants; access to an exclusive "members-only" Facebook page; VIP email access; personal reviews of all work submitted and tickets to live events in 2015. The price for the six-week workshop is $997, and participants can register at http://www.skirtsalesplaybook.com.
As an expert in sales and marketing, Judy Hoberman is ready to share her insight with women throughout the world. Through this online marketing workshop, anyone can sign up and benefit from Judy's expertise.
About Judy Hoberman:
For nearly 30 years, Judy Hoberman has been helping women in business to overcome obstacles and helping men to understand the best ways to utilize female talents in sales. Now, she is the best-selling author of several books and works with entrepreneurs and sales women on a regular basis, teaching and mentoring them to help them achieve better results.