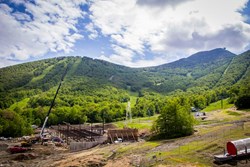 From snowmaking upgrades to new lodges and hotels, skiers and riders can be sure that the successful 2012-13 season means big investments to continually improve the Vermont mountain experience.
Statewide, Vermont (PRWEB) September 18, 2013
Vermont ski and snowboard resorts think about winter all year long. When a season wraps up they wonder: How can we improve our resort and deliver an even better product next season? From snowmaking upgrades to new lodges and hotels, skiers and riders can be sure that the successful 2012-13 season means big investments to continually improve the Vermont mountain experience.
Learn all about statewide updates on our website at skivermont.com or read about highlights here:
Jay Peak Resort
Jay Peak Resort will unveil $43 million in improvements for the 2013-14 winter season. Projects include a new 80,000-square foot Stateside Hotel and base lodge with restaurants and locker rooms, a rental center, 84 new mountain cottages, and a complete revamping of the resort's entrance.
Burke Mountain
Burke Mountain will see plenty of change over the next few years. Phase I (a $98 million investment) will see construction of two hotels modeled after the Tram Haus Lodge at Jay Peak. The new Hotel Burke will be home to 116 suites.
Smugglers' Notch Resort
Following an investment of over $1,000,000 in snowmaking enhancements last winter, Smugglers' Notch Resort will incorporate 100 high efficiency tower guns into the fleet this season. The new guns will allow more snow to be made at a wider temperature range, improving early and late season coverage and in-season coverage, with greatly reduced energy costs.
Stowe Mountain Resort
Stowe Mountain Resort's continued investment in state-of-the-art snowmaking operations includes an additional $3.4 million in new equipment and upgrades for the 2013-14 winter season, which consist of 120 HKD tower guns, 4 Super Pole Cat fan guns and miles of new snowmaking pipe.
Topnotch Resort & Spa
Topnotch Resort reopened on June 28, 2013 after a $15 million investment. Situated in Stowe, VT, the new Topnotch includes a new arrival experience and lobby; two new restaurants: Flannel and The Roost; outdoor event spaces, all new guest rooms, and more.
Trapp Family Lodge
The 2013-14 Nordic season at Trapp Family Lodge will be one for the records as they prepare to host two National Championship Nordic Events. The Junior Nationals, March 1-8, 2014, will begin in a newly designed Nordic Stadium and improved FIS homologated race course.
Bolton Valley
Bolton Valley is replacing 6000 feet of snowmaking pipe for the 2013-14 season. The new pipe will help to ensure smooth operations all season long. Bolton is also updating one third of the ski and snowboard rental fleet with new equipment from Rossignol and Burton.
Sugarbush Resort
Sugarbush has added two new groomers to their fleet for the 2013-14 season, helping lay out great corduroy for skiing and riding pleasure. They've also invested $300,000 in the purchase and installation of 70 low energy HKD tower snowguns. Sugarbush's new Rice Brook Development continues along as scheduled for an early winter move-in date.
Middlebury College Snow Bowl
The Snow Bowl is upgrading its snowmaking system with the installation of 15 SV1020 tower guns on Allen and Ross. Ongoing glade work and trailside trimming will increase accessible surface area for skiing and riding.
Rikert Nordic Center
Rikert Nordic Center is rolling out a snowbike fleet this year to add to the fun. Snowbike rentals and bike specific trails will be available throughout the 2013-14 season.
Killington Resort & Pico Mountain
Killington Resort and Pico Mountain are proud to announce over $11 million investment in capital improvements for the 2013-14 winter season. Construction is already underway at the base of Pico Mountain for the new Andrea Mead Lawrence Lodge, a $1.3 million facility for Vermont Adaptive Ski and Sports and the Pico Ski Education Foundation. The season's most anticipated project is the state-of-the-art Peak Lodge facility being constructed at the 4,100 foot level of Killington Peak with a projected completion in December.
Okemo Mountain Resort
Okemo announces Operation Snowburst: A nearly $1 million investment in Okemo's snowmaking system that will include the purchase of 225 HKD SV tower guns and will allow Okemo to maximize its water-pumping ability and snowmaking potential from the very start of the season.
Bromley Mountain
Bromley continues to invest first and foremost in the snow surface, putting another $250k into snowmaking improvements that include new guns, new pipe, a new air compressor and a new groomer.
Magic Mountain
Skier-sourced funding via the Magic Faithful Club helps Magic continue to invest in expanding its snowmaking system to improve coverage, open earlier and extend the season even longer. Fifteen to twenty new high efficiency mobile tower guns will be purchased this fall and an additional trail (Sorcerer) will be brought on-line to bring snowmaking coverage to 75% of Magic trails.
Stratton Mountain Resort
Stratton has invested $6 million in the mountain and resort experience, including snowmaking, lodging, on-mountain dining and Village food, drink and fun. They've added three new snowcats, two new trails, and new double-black glade, the Squirrel's Nest, bringing total woods runs to nearly 150 acres. One 1,500 horsepower electric snowmaking air compressor replaces a diesel model.
Mount Snow Resort
Mount Snow replaced more than four miles of snowmaking pipe over this past summer which will improve the already stellar system's efficiency and output. They've also invested more than $250,000 on brand new rental equipment and have performed a complete renovation of the Clocktower Building to streamline the rental experience.
For more photos, visit facebook.com